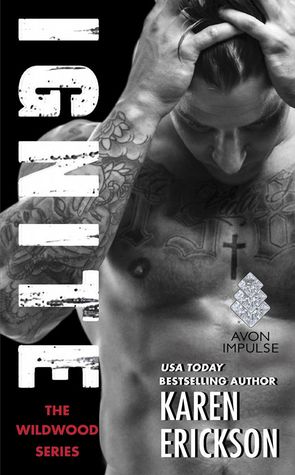 Ignite by Karen Erickson: Back in town after being gone for years, West isn't exactly happy about this new result, only staying for the promotion he got at the firehouse. But what might just make it all worth it is the girl he left behind all those years ago, Harper, if she doesn't hate him.
West's going to fight for Harper, even when she gives him her body he's going to fight for her heart. But Harper doesn't think she can trust West to stay around this time. Or to be serious for her, always the rebel and joker when he was younger.
But as he shows her he's serious, and as he discovers more to Harper, also his sister's best friend, they might just become a couple to last.
"I've had a thing for you for too damn long, Harper. Always wondered what it would be like if you were mine."
Not a whole lot of depth but definitely a lot of fun, I really enjoyed Erickson's Ignite. This is going to be a series I follow. I love both West and Harper, I love them together. She's sweet and fighting to escape the good girl she's known as in her small town. And West is the sexy rebel.
They begin their relationship pretty quickly and generally stay together, but watching West woo her and be sweet is perfect. I swooned all along seeing how he cared for her.
I would've liked more personal and relationship development, but as a simple and sweet read I did love it. Erickson has a good voice which kept me drawn in, and with the bits of tension and suspense towards the arsonist and other family troubles I'm curious what's going to happen throughout the rest of the Wildwood series.
Book Info:

Published: March 15, 2016 | Avon Impulse | Wildwood #1
Weston Gallagher is falling hard-for the wrong woman.
One night of passion has haunted him for years.
Now he's got a second chance to get the girl of his dreams…but there's just one problem:
She hates him.
Eight years after he stormed out of Wildwood, California, West has returned to his hometown as a firefighter. His friends and family are thrilled he's back-with the exception of Harper Hill. His best friend's sister is all grown up and in all the right ways. He knows she's going to do everything she can to protect her heart and keep him at arm's length, but West has other ideas.
He will win the girl that got away. No matter what it takes…