In Ignited (Most Wanted #3) by J. Kenner, Katrina Laron is tired of dancing around sexy businessman Cole August, the object of her desire. He's known to have a volatile temper and to be involved in some less-than-legal business dealings, but Kat has lived the life of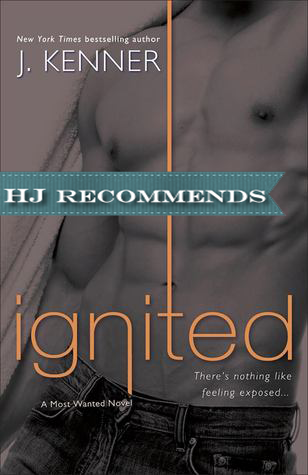 a grifter. So it's nothing new to her. She's decided it's now or never to make her play for Cole and she won't take no for an answer. Kat can see the heat in his eyes every time they are near, so she wasn't expecting Cole to deny them both the pleasure they so desperately crave in each others arms.
"I've claimed you, baby, and that makes you mine. But maybe not in the way you think."
"I don't understand."
"I know. But you will. Right now, I just want you to know that I will do whatever it takes to protect you. Even if that means protecting you from me."
When an issue in Kat's family life forces her to call on Cole for help, they are thrown together to figure out a solution. The close proximity proves more than they can handle and before long they give in to their amazing chemistry. Cole opens up a new world to Kat when he shows her the fine line between pleasure and pain, ecstasy and longing. Their whirlwind love affair gets serious very quickly until they are both left wondering if what they feel can possibly turn into something that could last forever.
"What are we doing?" I asked, because I could no longer hold back the question. "What are we to each other?"
"Everything," he said, then he pulled me in for a kiss.
Ignited is every bit as hot and combustible as it sounds. Book three in J. Kenner's Most Wanted trilogy finally gives us the story behind Cole's troubled past, and how Katrina is pulled into an erotic world she never knew she needed.
This series has been one hot story after another. J. Kenner definitely knows how to write steamy love scenes and how to push the pain/pleasure envelope with her characters. What has really stood out to me, though, is how complex the stories are and how the lives of these six people intersect throughout the trilogy. There was an element of suspense that I didn't expect, but that added another layer to the plot while creating some tension between Cole and Kat. I do love a good narrative story such as this, but I did wish we could get inside Cole's head a few times, to see what his perspective was on where their relationship was going and some of the decisions he made.
It did feel as though the majority of the story was about their physical relationship, with the dangerous part of the storyline taking a backseat, but the ending makes up for it when all hell breaks loose. The sacrifices those two were willing to make for each other just proved to me that they were meant to be together. *happy sigh* And let me just say that there were some creative love scenes between Kat and Cole that were uber hot. Including more than one session of phone sex. Yep. They went there and it was sooooo sinfully good. 😉
If you're a fan of erotic romance with BDSM laced through the story, I think you'll enjoy following Kat and Cole as they find a way to heal each other and build a lasting relationship.
Book Info:

Published September 9th 2014 by Bantam | (Most Wanted #3)
For fans of Fifty Shades of Grey, Bared to You, and Release Me comes an all-new erotic series of three enigmatic and powerful men, and the striking women who can bring them to their knees.
He promised to take me as far as I could go—and I wanted to go to the edge.
My whole life has been a cover, a con, a lie. I was born into the grift, raised on the thrill of playing someone I'm not. As a rule, I never let anyone get too close—until Cole August makes it impossible for me to stay away.
Cole is tough, sexy, and intensely loyal, yet his secrets are dark and his scars run deep. Not many women can handle his past, or the truth behind his fierce demands. But something about him beckons me—and our desire is a game I must play.
I know he's dangerous, that even his touch is trouble, but what is passion without a little risk?
Ignited is an erotic romance intended for mature audiences.