I'll Be Home for Christmas by Debbie Macomber, Sherryl Woods and Brenda Novak: This is a lovely collection of holiday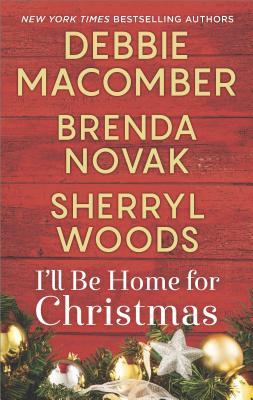 themed stories! My two favorites were Silver Bells by Debbie Macomber, and the Perfect Holiday by Sherryl Woods. I must confess i had difficulty getting into the story On a Snowy Christmas and I tried a few times!
In Silver Bells, teenage Mackenzie is eager to fix up her father Philip with their new neighbor Carrie. Mackenzie is 100 percent convinced that they are the perfect couple. Philip is just as determined NOT to be fixed up, as he is not eager to remarry. Carrie feels a strong connection with Mackenzie, and identifies with her, as Carrie herself did some matchmaking as a teen, between her own mother and the man who became her loving stepfather. I invite my fellow readers to enjoy this sweet holiday romance!
In The Perfect Holiday, Savannah is working at renovating and updating the B and B originally run by her beloved great aunt, and left to her in Aunt Mae's will. She's also busy as a single mom to 8 year old Hannah. Trace, a New York entrepreneur, was very fond of his dear friend Aunt Mae, and went to spend Christmas in her old inn, as requested before she passed away. He is quickly attracted to Savannah, and Hannah immediately takes to him! Hannah loves to play with him, as her father was not at all attentive before her parents divorce.
Will Savannah let Trace into her heart and her and Hannah's lives? Will Trace be able to open up his heart and relax workaholic tendencies? Pick up The Perfect Holiday to find out!
Book Info:

Publication: September 26, 2017 | Mira Books |
Silver Bells by Debbie Macomber
A single dad's rambunctious teenage daughter hatches a plot to find her father a wife, and she has just the woman in mind. He may claim he's not interested in remarriage, but perhaps the magic of the holiday season will help him change his mind.
On a Snowy Christmas by Brenda Novak
When their private plane crashes in the Sierra Nevada Mountains shortly before Christmas, two political enemies discover that survival means more than just staying alive. In their case, it also means falling in love…
The Perfect Holiday by Sherryl Woods
What's a holiday without a handsome husband? To a matchmaking aunt, it isn't very festive at all! So she sends the perfect man to her single niece. But will he become the perfect groom-to-be by Christmastime?