In, In a Ranger's Arms (The Men of At Ease Ranch #1) by Donna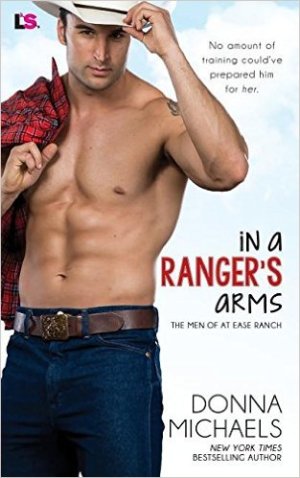 Michaels, forced to sell gluten-free, vegan food in Texas for four weeks in hopes of becoming CEO of her family's company, Jovy Larson has her work cut out for her. Never mind that the first time she meets the landlord of her temporary business venture, she manages to insult him. However, soon after they begin to spend time together and find themselves growing closer and closer. But what happens when Jovy's month in Texas is up, will the man she's falling for convince her to stay?
"Well, we've all been called stubborn and strange. Even me." She shrugged. "Speaking of called…we haven't been officially introduced. I'm Jovy Larson. And you are?"
His chin rose a tick, and he leveled her with a cold stare. "Stone Mitchum. Your jackass of a landlord."
Stone Mitchum cares too much for others, most especially the former military men and women he's helping to transition back to everyday life after leaving the service. He doesn't have time to flirt or get to know his gorgeous new tenant. Still, there's something about her that draws him to her like a moth to a flame. Can he find a way to balance his need to help others with a new romance, or will one be too much to allow him to have the other?
There was so much to love about this book, which made me laugh and almost had me wanting to cry. The way this story began with Stone dealing with problems in managing a business, especially the money side of things made me feel sorry for him. However, the moment his brother enters the story; I found I had to agree with his assessment of Stone. The man definitely needs help in getting him to relax. But this book gets even better once the hero and heroine meet. Jovy better watch out. There's another vying for Stone's affection.
As for the dialogue, it was intense due to the character's back stories, especially that of the hero. After losing a close friend, he suffers from guilt and taking on so much responsibility as well as making sure he's there for those that need help is his way of making up for it. Does it work? Or does Stone need to realize that he can't always be there for someone? That they have to want to get better for themselves. However, the dialogue wasn't all intense. There are a few light-hearted moments between the two main characters and due to a certain animal that is jealous of the heroine and finds ways to make Jovy's life difficult that had me laughing,
"It's a check."
"Wow. Cute and sharp."
Cord's grin appeared outright, while his brother and Vince laughed. Assholes. He cocked his head and met her gaze. "How do I know this won't bounce?"
"It won't. I promise. Watch." She grabbed the check and dropped it on the floor where it slid under the toe of his boot. "See? It didn't bounce."
The two chuckleheads laughed harder. Stone bristled. "Very funny, Ms. Larson."
Both characters were extremely entertaining, although I did get frustrated with Stone at times. His determination to take on so much responsibility and his need to want to help others is denying him the chance to find love, and I was glad that the secondary characters in Stone's brother and his friends pushed the hero into pursuing something with Jovy. If it wasn't for them, I don't know whether things would have worked out between them. Stone could be quite stubborn when he wanted to be.
While Jovy, she's hard-working, strong, brave and very determined to succeed. She'll take all the help that she can get, because there are times when it doesn't seem possible she'll be able to achieve her goals. Will she beat her cousin who is doing just as difficult a task as her in what he's selling and in what part of the world? Besides, what she's doing in her determination to become CEO of her family's company is to honor a promise she made, so I could understand her need to win. Will she win? That was the question I wanted to know the answer to, especially with a certain big decision she made.
Overall, Ms. Michaels has penned a wonderful novel to start off this series that delivered a strong romance and plenty of moments where I could feel the emotions and reactions of the main characters along with them. The way this story ended was perfect, as Stone used any means necessary to get Jovy in his presence so he could talk to her. And as for whether the heroine won the CEO position or not didn't matter, although it was nice to know who did win in the end. I would recommend In the Ranger's Arms, if you enjoy the mistaken identity trope or a story where a hero desperately needs love in his life.
Book Info:

Publication: November 28th, 2016 | Entangled Publishing | The Men of At Ease Ranch #1
Former Army Ranger Stone Mitchum doesn't have time for sex. Since starting a company with his brother and two buddies, he's had more important things on his mind. Like transitioning veterans back into society. But when his curvy new tenant falls into his arms–literally–his libido snaps to attention.
Jovy Larson has four weeks to prove she's worthy of taking over the family business. Her challenge? Sell gluten-free, vegan food–in the middle of cattle country, Texas. It's a tough task, but not half as tough as fighting her attraction to her sexy, surly landlord.
Before she knows it, Jovy's tangling sheets with the hot cowboy, stalked by a jealous cow, and strategizing ways to help Stone's ranch. But by the time her lease runs out and the test is over, she's faced with a new challenge…competing against Stone's sense of duty to win his heart.