In In Bed With Mr Wrong (Out of Uniform #1) by Katee Robert, Librarian Brianne Nave has spent a lifetime guarding her heart and pushing away people who may get too close emotionally. As a newcomer to small town Wellingford, PA, she surprisingly becomes fast friends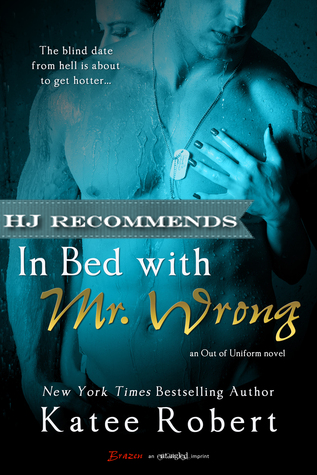 with Avery and Drew. So when they ask her to do them a favor and go on a blind date with Drew's younger brother, Air Force Pararescuer Ryan, how can Bri refuse?
'When she'd fantasized about meeting her very own alpha male, she hadn't stopped to consider that they were giant pains in the backside.'
Years of reading romance novels hadn't prepared Bri for the assault on her senses at being so close to the hunky hero. Unfortunately, while their physical attraction is off the charts, they can't have a civil conversation to save their lives. Bri's friends trick her and Ryan into a cabin and leave them there for three days to sort through their emotions. Will they find a happy medium and work things out? Or will Bri push Ryan away so he won't hurt her in the long run just like everyone else in her life has before?
'She couldn't keep striking out at him blindly just to keep him from getting too close. Like it or not, he was already there.'
Ryan Flannery left Wellingford behind a decade ago when he joined the Air Force. He's happy to visit his brother and their friend Avery, but he doesn't want his reputation as a former supposed wild teenager thrown in his face. Again. Ryan concedes to big brother Drew when asked to take Bri out on a blind date, not expecting the sexy little knockout who opens the door to be the sweet librarian he was told about. To say the date doesn't go as planned is an understatement. They are at each other's throats verbally every time they meet, even if they do sizzle between the sheets. When they're thrown together at a remote cabin, Ryan realizes how much he and Bri actually have in common. Can he get her to see how wonderful they can be together before their weekend ends?
'He had to convince her he wasn't like the string of people in her life who'd left. He wouldn't walk away, not while he still had the breath to argue.'
In Bed With Mr Wrong is book one in the new Out of Uniform series by Katee Robert. Sparks definitely fly in this enemies-to-lovers story with two people who are more alike than they care to admit.
Our protagonists are verbally sparring from their initial meeting forward until Ryan finally begins to break through the wall Bri has built up around her heart over the years. I'll confess that I'm not a confrontational person, so this type of trope can sometimes grate on me. However, in this case, even though Ryan and Bri get off on the wrong foot and it spirals out of control from there, the chemistry between them is obvious and seriously off the charts. It's actually rather comical the situations they seem to get themselves into and for me, that made the story much more enjoyable.
One of the things I love about the Brazen line of books is the level of intensity in the love scenes. Hot and steamy doesn't even begin to describe Ryan and Bri. There was almost a desperation to their romance that amped up the excitement. Plus it doesn't hurt that Ryan had a dirty mouth and liked to try to shock Bri with his naughty talk, which she loved, I might add. And I thought it was a pretty clever plot twist that they were forced to be stranded together. I mean, stranded in a cabin in the winter with a gorgeous guy sounds pretty fun to me! 😉
Fans of super hot contemporary romance will enjoy In Bed With Mr Wrong. I think you'll fall for Ryan's kindness and Bri's sassy attitude just like I did.
Book Info:

Publication: January 13th 2014 by Entangled: Brazen | Series: Out of Uniform #1
The blind date from hell is about to get hotter…
Brianne Nave is never doing her friends a favor again. When they begged her to go on a blind date, she didn't expect someone so perfectly gorgeous. She's a mousy librarian—totally not in this man's league. And judging by his odd reaction when she opens the door, he knows it, too.
Air Force Pararescuer Ryan Flannery avoids his hometown at all costs. He's not thrilled about the date until he's shocked silent by the prickly little librarian's sweet curves and kissable lips…and her smart mouth. But then an argument leads to a kiss that spirals out of control. How can two people have so little chemistry outside the bedroom when they fit together so perfectly in it?
When their friends strand them in a cabin to "work things out," Bri's not sure whether to kill him or put the industrial-sized box of condoms they find to use. Bottom line—Ryan's career military and hates the tiny town she loves. He'll leave, just like everyone else in her life. And if she's foolish enough to give him her heart, he'll take it with him.