In In for the Win (Against the Cage #5) by Melynda Price, Kyle "The Killer" Scott is an MMA fighter who's recognized around the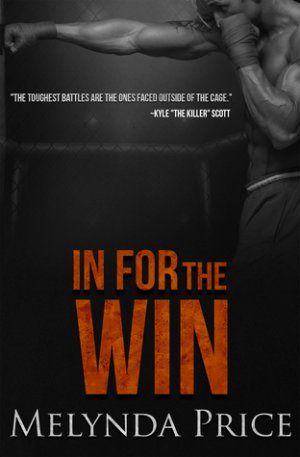 world and is currently at the top of his game. What his fans and, hell, even some of the other fighters don't know is that he didn't sign on due to a love of the sport. It was more of a means to an end, a way to provide well for his younger sister Willow after their parents died tragically. And Kyle has done his best by Willow but he's finally hit the wall emotionally. He needs to find something just for himself that has more meaning than the next cage match and the next one-night stand. That connection and purpose in his life unexpectedly turns out to be a sexy, stubborn woman named Penelope "Pen" Cantrel who's running from her own dark past. Is it smart to get involved with someone as messed up as Kyle knows he himself is? Probably not, but if he can gain her trust and help her through it all, he knows it will be the biggest victory of his life.
"When I look at you now, I will see the strongest woman I've ever known. I'll see a survivor who faced her biggest fear and showed me the darkest parts of her because she took a chance on me, trusting that I could love her through this. And I can, Pen. If you'll let me. Will you do that?"
She nodded, tears streaming down her face.
"That means no more pushing me away, alright? You and me, we're in it to win it."
Pen has overcome a lot of the tragedy in her past but there's still so much she can't get seed to get past. Being the life of the party and going from one casual fling to the next is the only way she can forget about it. But her one hot night with MMA fighter Kyle messes with her head. Pen can only describe it as him being someone who has faced down his own darkness and he can sense that in her as well. So when she starts getting threatening texts and Kyle offers to pretend to be her boyfriend to throw her stalker off the trail, Pen knows it's a bad idea. He has the ability to read her emotions like no one else, so spending more time with him puts her heart and the truth of her past in jeopardy. Kyle is determined to save her, though. So Pen finds herself on the edge of letting someone in under her defenses for the first time in her adult life and it has her wondering if it's the stupidest or smartest thing she's ever done.
"Everyone I've ever depended on has either abandoned me or hurt me. I told myself I couldn't trust you, that you would do the same thing. But you're different… I'm scared to need you, Kyle, but I'm more scared of doing this alone."
Holy. Hotness. In for the Win was all kinds of sexiness tangled up with some suspense, tender romance, and personal challenges for our main characters to work through. One thing it was not was boring. Boy did this book hold my attention from start to finish!
'Pen's soul recognized a kindred connection with him, one that could only be shared by survivors of tragedy.'
Trigger warning: Sexual abuse, stalking, attempted suicide.
I have to begin by saying that Melynda Price is such a terrific quotable author that it was ridiculous the number of quotes I had to wade through to do this review. (Fifteen of them!!) 😉 Between the wonderful dialogue, the heartfelt emotions Kyle and Penelope experienced, and their tragic backstories we learned lots more about, Price detailed each scene perfectly. And there was such intensity of emotion between all the characters involved, not just our hero and heroine, but their friends and family as well. Yes, there was a bit of angst and Pen and Kyle had some blockheaded/stubborn moments, but I just adored the interactions of everyone in this story so much.
So the good and the not-so-good about Kyle and Pen actually ended up being sort of similar for them both, I thought. They were loyal to their friends and were equally brave with tons of inner strength. They were both undeniably sexy and there was no doubt they had their choice of lovers. But unfortunately Kyle–even though he had a white knight complex and truly was heroic–saw things pretty cut and dry. It was sort of a "my way or the highway" attitude which didn't work for some people in his life. And Pen was quick to judge others although when it came to herself, she wanted to get the benefit of the doubt from her friends. I did love them as a couple, though. They fit really well together and had killer chemistry. Kyle gave Pen a routine and a sense of security in her life she'd been missing and he finally had a connection with someone he felt strongly for after years of one-night stands. Plus they were so darn funny and sexy together you just couldn't help but fall for them.
Whether you read this as a standalone or as part of the Against the Cage series, I think readers will deem In for the Win a total knockout. Their delicious attraction plus a strong-willed hero and heroine equaled one helluva good time.

Book Info:

Publication: Published November 7th 2017 | Melynda Price | Against the Cage #5
To win his heart, she'll have to give him the one thing that could drive him away—the truth…
Kyle Scott's talent for fighting paved the way for a career he never wanted, but needed to survive. Five years later, he doesn't recognize the man he's become. All his focus and energy has been poured into raising his little sister, leaving no time or interest for anything beyond a casual hook-up—until he meets a woman who sends his life spiraling out of control.
Penelope Cantrel isn't looking for love, but she's always ready for a good time. If she keeps everyone at a distance, they can't discover how broken she is, or the secrets she's running from. When she crosses paths with the sexy MMA fighter, Kyle's reputation as a cage-banging manwhore doesn't concern her. She isn't interested in a commitment. But after their white-hot attraction leads to a night of mind-blowing sex, neither of them will ever be the same again.
When Pen starts receiving threatening messages, her deepest fears are realized as she becomes the obsession of a man who will kill to possess her. Concerned for her safety, Kyle offers to pose as her boyfriend to deter her unwanted admirer, but his heated touches and those not-so-innocent kisses don't feel like he's acting. Could the infamous playboy be falling for her?
As the threat against Pen escalates, her stalker is closer than they thought. Kyle is the only thing standing between her and a madman, but she fears trusting him with her secrets could be a fatal mistake.