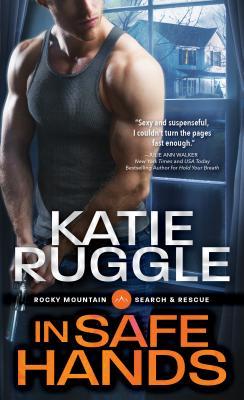 In Safe Hands by Katie Ruggle is the fourth book in the Search and Rescue series. Sheriff's Deputy Chris Jennings is friends with Daisy Little, a woman who has suffered from agoraphobia the past eight years, when her mother was murdered right before her eyes. Now she lives her life vicariously though Chris's stories and from watching her neighbor's from her window. When one night she sees a deputy's vehicle across the street and a man stuffing what looks like a body into the trunk, she confides in Chris, who brings in his friends to help figure out what is going on.
If you read the previous book in the series, Gone Too Deep, you know who murdered Willard Gray already. Daisy, Chris, and his group of friends (all the couples from the previous three books), haven't figured it out yet, and they try to figure out if what Daisy saw was somehow related to Willard's murder. What they also need to figure out is if the murderer is also the arsonist, or if it's someone else. I didn't expect that to turn out the way it did, but I enjoyed it.
Chris was a great character. He was willing to believe Daisy when others would think she was crazy. When Daisy repeatedly implied she was crazy, he would always tell her she wasn't. He was willing to put his job in jeopardy to investigate her claims of what was going on across the street.
I liked Daisy as well. You can't help but feel bad for her, as she witnessed her mother's murder. This left her terrified to leave the house. Even looking at sunlight through an open door causes her to panic and pass out. Her father can't even stand to be around her, only stopping by their house to drop off groceries for her before taking off for another job site.
I loved how the Chris's friends immediately embraced Daisy and pulled her into their group. Knowing about her agoraphobia, they had no issues converging on her house to spend time with her, not only figuring out what Daisy saw that night, but even working out in her gym as well. They provided some humor, especially the women.
Ian put a hand on the heavy bag to steady it while he sent a warning glare over his shoulder at Rory. "This is not the Old West, and our homestead is not under attack."
"It'd be good practice for defending the house from zombies." Since Rory was the queen of deadpan humor, Daisy wasn't sure if she was serious or not.
"Can I practice shooting from the window, too?" Lou asked, exertion making her breathless. "I'll bring my new gun. This'll be so much fun."
"We'll only aim at the annoying neighbors," Rory promised. That time, Daisy was sure she was kidding. Fairly sure.
Out of all the books in the series, this one was my favorite. I would recommend reading the previous books, including the introductory novella, prior to reading this one. That is because the arson and murder storylines run through each book, and they each build upon the prior book.
If you enjoy romantic suspense, I would recommend this book. It has plenty of suspense mixed with a nice blend of romance and humor. If you've read the previous books, you'll definitely want to read this to find out how it all ends.
Book Info:

 October 4, 2016 | Sourcebooks Casablanca | Search and Rescue #4
It's all come down to this…
Daisy Little has lived in agoraphobic terror for over eight years. Trapped within a prison of her own making, she watches time pass through her bedroom window. Daisy knows she'll never be a part of the world…until the day she becomes the sole witness of a terrible crime that may finally tear the Search & Rescue brotherhood apart for good.