Inseverable by Cecy Robson: Former army ranger sniper Callahan is looking for peace and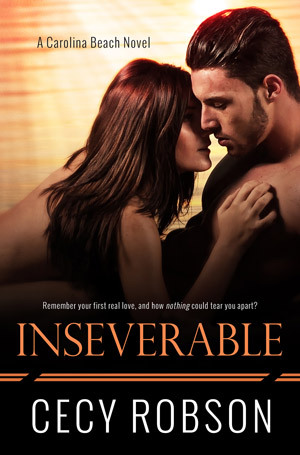 quiet on Kiawah island, away from everyone and alone with his demons. But in comes the always peppy Trinity who won't seem to leave him alone. Although he tries to push her away as much as possible, soon he finds himself watching for her, and even inviting her in.
Trinity knew the second she saw Callahan she wanted him. Always there to help, she saw the sadness in his eyes and decided she would be the one to fix it. But quickly she begins falling hard for him, only it can't last. At the end of the summer she plans to go into the Peace Corps, her lifelong dream.
As Callahan and Trin try their hand at romance, becoming inseparable, all factors seem against them no matter the passion they feel. And soon enough it's set to destroy both of them.
"I love running on the beach. Don't you, Spanky? It's like exhilarating and fun all at the same time –"
"Do not call me Spanky."
"Iron Man?"
"No!"
"Batman?"
I turn enough to just glare at her. "Batman?"
She shrugs and continues to run like she's prancing through a field of daisies, point toes and all.
As a fun read, I really liked Inseverable. The close off hero is a favorite because Trinity has to fight her way into his affections. And she definitely does. I love watching her unstoppable spirit. She was definitely a joy to read. Callahan, too, although pained from his experiences, I loved seeing him open himself up to what Trin offered.
That said, I wish it took longer. Pretty quickly Callahan gave way to Trinity and the tension didn't keep up. Although various factors and secrets kept the ending a guess, I would have loved this story if the development of the relationship lasted throughout the story and kept up the romantic tension, the internal conflict. Instead, everything was external. Even her past of being cheated on was sort of central, but it had no effect on the relationship.
A great cast of characters I definitely want to follow, and two loveable characters, I recommend Inseverable for those who want a fun read with a military hero. It was light, fun, and I just loved seeing the depth of feeling they had for one another. Plus, it had me laughing a bunch.
Book Info:

Publication: June 21, 2016 | Cecy Robson, LLC | Carolina Beach #1
How can you imagine forever with someone who's leaving everything behind?
Callahan, a former army sniper, wants to make an escape from his past and everything he experienced at war, but most of all, just not feel. Feeling leads to pain and he's suffered enough. When he inherits a house on South Carolina's Kiawah Island, he packs his bags, lured by the peace and seclusion he thinks it will bring. But, Callahan never counted on meeting anyone like Trinity . . .
Trinity has always been the cute, and funny one, who most guys overlook in pursuit of her "hot" friends. She became used to being everyone's pal, until the day the young man she was attracted to, was drawn to her in return. He became her first great love, and first crushing heartbreak when she found him in bed with one of her closest friends.
To move forward, and to carry out her commitment to helping those in need, Trinity enlists in the Peace Corps, but not before returning to Kiawah for one last memorable summer. She just never imagined it would be so unforgettable.
Callahan doesn't want to get close to anyone—let alone Trinity. He finds her perkiness insufferable and her attempts to entice a smile distracting. After all, he's in Kiawah to leave all feelings behind. But when it comes to Trinity, who feels everything, it's hard not to feel something.
Neither expected to fall in love. And no one could have predicted how inseverable they'd become.