Intense Pleasure by Lora Leigh is passionate, addicting, and I can't wait to read it again!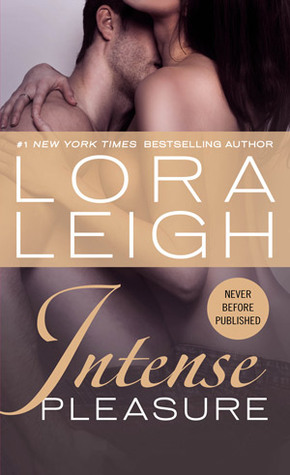 This story is packed with page-turning action, dangerous situations, and alpha males who know their way around a female body.
Summer is a southern belle and for the past few years, she's been an agent with the CIA. Now, all she wants to do is go home. She's tired of the fighting and she's dealing with her own issues from killing a friend who went dark, so she wants to retire forever. It's just too bad people want to kill her. Falcon, her partner can't accept that she's leaving for good, but he won't be saying bye yet, not until she's safe and out of danger.
Falcon is enamored by her. He wants her and plans to have her, but there's also his brother to consider. See, they share their women and Raeg is a little difficult. For Raeg, being a prick is the only way to keep his distance from Summer. She makes him crazy and vice versa, but the passion between them only keeps igniting. Falcon is the nicer brother. He practically worships Summer and knows that she's the "one" for them. He only needs to convince Raeg to let down his guard and let her in.
For Raeg and Falcon, Summer is their weakness and when they leave her, it will break all three of them. Raeg and Falcon have someone in their past that threatens the women that get close to them, so they must leave Summer before she ends up a casualty. But Summer has her own secrets and when Raeg and Falcon find out what she's organized, all hell is going to break loose.
I adored Summer. She was a strong heroine. She fell in love with both brothers and knew they were going to leave her and made plans to get on with her life. It takes a strong woman to let her men go, especially when they are dead set on it. She doesn't whine or beg them to stay, instead, she keeps her head high and goes about her day, even though she's dying inside.
A kiss-ass heroine, more secrets than you know what to do with, and scorching hot scenes, make Intense Pleasure a must-read.

Book Info:

Publication: January 3rd 2017 | St. Martin's Paperbacks | Bound Hearts #15
Sexy, scintillating, and secretive, Intense Pleasure is the story of hidden desires and illicit romance. When danger threatens a woman, the two men who crave her, cannot live without her, will stop at nothing to protect her life… and satisfy every burning desire she has. They must stay bound together to be stronger than what hunts her, and let passion consume them…
TOO HOT TO HANDLE
Her name is Summer, as beautiful and occasionally fierce as her name suggests. Her past has just come back to haunt her, and suddenly she's not sure who she can trust. Her longtime confidantes Falcone and Raeg seem to have Summer's best interests at heart. . .but it's clear that their desire for her still burns between them. Can they find a way to keep Summer safe—or will a bitter rivalry stand in their way?
Falcone and Raeg need to work together, now more than ever, if they intend to protect Summer from an old enemy who knows her dangerous secret. When Summer's identity as a sweet, Southern socialite gets out, the two men must find a way to draw out the ruthless assassin on her trail. . .and keep their illicit romance with her under wraps. But some passions are so intense they can't remain hidden.
What are Falcone and Raeg willing to risk for the woman they both crave like no other, in Intense Pleasure, the next Bound Hearts novel from #1 New York Times bestselling author Lora Leigh.