In Into the Firestorm (BOSS, Inc #3) by Kat Martin, Emma Cassidy has one thing on her mind – revenge. No way is she going to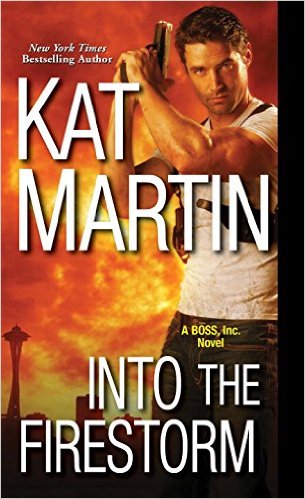 allow the man that terrorized her niece to get away with what he did to her and is still doing to her. Knowing things could get dangerous, she finds herself partnering with Luke Brodie, one of the best bounty hunters ever. Will Emma get the chance to take down the dangerous man that has been terrorizing her family, or will she find herself in too deep without a way out both personally and professionally?
=Emma flashed him a disbelieving glance. "So what happened with Vance? Did Studly Do-wrong get any closer to finding him?"
Emma couldn't stop a laugh. Studly. If Booth only knew. "That's a good one. I'll have to tell Luke."
"You mean you actually expect to see him again? Mr. One-night stand?"
Her laughter faded. "We made a deal. No matter what happens, we partner till we find Vance."=
Ms. Martin has penned a really good read in this third book of her Boss, Inc series; a book I was really looking forward to reading because Luke has been a bit of a mystery in the first two books and I wanted to know more about him. He's ex-military and now that he's retired, he's got a job that his skills in the service are perfect for. Being a bounty hunter isn't easy, and I liked how Emma surprised Luke with how good she is, considering she's a novice compared to him. The way this story started sets the fast-pace of this story, as it had me wondering how far Emma would go to get her man. She doesn't have the skills to exact revenge in the beginning, but it doesn't stop her from being the best she can be when it comes to chasing down criminals that skip bail.
As for the dialogue, it is told from a few different points-of-view; those being the hero and heroine as well as the heroine's sister, the FBI agent in charge of the investigation and the bad guy. In the beginning, I didn't think it was necessary to have so many perspectives, but as the story progressed, it was interesting to read how Emma's niece is doing after her trauma, why the bad guy is so obsessed with the heroine's niece, and the developing relationship between another couple that deserve happy ever after. Moreover, the dialogue is intense due the main characters back stories and everything that Emma and Luke go through in their hunt. The bad guy is determined to do everything in his power to stop the hero and heroine from coming after him. Yet, every obstacle just makes Emma more tenacious in her pursuit to see justice served and that's what I liked most about the heroine. She's strong and brave in all that's she done to become a bounty hunter, which is proven by her physical prowess when it comes to taking down criminals or anyone she thinks she can gain information off. She also has a wonderful bond with her mentor and I liked the teasing dialogue between the pair, especially when they talk about Luke.
While the hero, he's been through a lot in his life. Life in the military makes him capable of so much, especially when someone he loves is threatened. Can he control his temper? How far is he willing to go to protect Emma, even if it means protecting her from himself? I also liked the bonds he shares with the other men of Boss, Inc. They're there for each other through thick and thin, no matter how dangerous things get. But what I liked most of all about the hero was how protective he was of Emma. No way was he going to let her go after the bad guy on her own, because he knew she wouldn't stand a chance of taking him down.
"So this is what I'm doing here, Luke. I'm betting that deep down inside, you know that I'm what you really want. That I'm exactly what you need. I'm betting you're brave enough to grab what you want, hold on to it, and never let go."
Overall, this was a really good third book for Ms. Martin's Boss, Inc series where the growing relationship between this couple developed nicely until their strong chemistry spilled over onto the pages and illustrated just how much these two need each other, no matter how hard Luke tries to deny his feelings. The way this story ended had me on the edge-of-my-seat due to what happened with the hero and heroine. Would they both survive? Would Luke be able to keep Emma safe? Yet, in saying that, I loved how this couple were reunited. Emma was determined to fight for her relationship with Luke and prove to him that he deserved love and happiness as much as anyone by challenging him to realize what he wants in his life more than anything — her.
Furthermore, the epilogue wrapped this story up nicely. Luke and Emma have come so far and deserve every bit of happiness they have together. Being bounty hunters is very much in their blood, but I liked that they're determined to do everything in their power to stay safe. I would recommend Into the Firestorm by Kat Martin, if you enjoy romantic suspense or the sexy protector trope.
Book Info:

Publication: January 31st, 2017 | Zebra | Boss, Inc #3
At Brodie Operations Security Service, Inc., following your instincts is company policy . . .
M. Cassidy—Luke Brodie had heard the name before, some novice bounty hunter working Seattle, catching tricky skips with more success than a newcomer should expect. But the dark curls, sparkly top, and impressive cleavage were not what Brodie had pictured.
Emma Cassidy is tough and smart and sexy as hell. She's also popping up a step ahead of him every time he's close to the capture he wants most . . . and there's no room for learning on the trail of this monster.
Emma has idolized Luke Brodie, the bounty hunter who can bring anyone in. The big man in the soft shoes, with a face like a fallen angel and a reputation for breaking hearts. Watching him in action is intoxicating. But her fight with Rudy Vance is fiercely personal. If he gets too close, Brodie will find out just how ferocious she can be . . .