Irresistible Force (K-9 Rescue #1) by D.D. Ayres: f you think the cover is smoking hot wait to read what is written inside. This was my first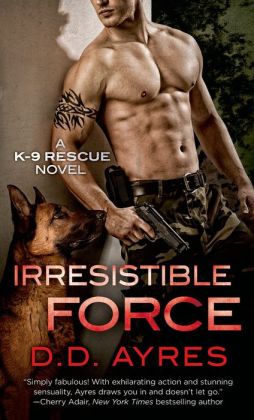 experience with author D.D. Ayres and it left this reader desperate for more. Too bad the next K-9 Rescue book is not releasing until March 2015.
The bond between James and Bogart lends authenticity to the story. I was immediately engrossed in the story. I was especially impressed with the exasperating moments when the heroine would make a stupid choice (i.e. running up the stair instead of out the front door). I know…how could I be impressed by the infuriating moments – the author handled each moment with polish – no filler; all meat.
Considering the traumas that Shay Appleton has experienced in her life I expected her to be needy and pathetic – my least favorite type of heroine. However, her strength even in her weakness moments was written with an almost arrogance tone. The author captures every emotion and expresses it without interrupting the story flow.
I am going to the pound today and adopting a few dogs with the hope that a 'James Cannon' shows up on my doorstep to claim his pet. Just Kidding – Neither the hubby nor my pup would like that. The protectiveness of James is adorable. I love how realistically the author allowed him to break through Shay's barriers.
Bogart is a great addition to the story; he will steal your heart. If you love romances that contain animals then this is a must.
Book Info:

Publication: August 26th 2014 by St. Martin's Paperbacks | (K-9 Rescue #1)
When adrenaline runs high, so does the force of desire…
For Shay Appleton, it's love at first sight when a gorgeous stray dog is brought into the animal shelter where she works. She just knows he'll make a terrific watch dog—and with an abusive ex who won't let go, she needs all the protection she can get. But Shay never suspected that her new pet is actually a trained police K-9 named Bogart—until Bogart's even more gorgeous, human partner shows up on her doorstep.
Officer James Cannon is one tall, strong alpha male who's convinced that Shay stole his dog. But once he gets closer to the suspect, he realizes that this stubborn, independent woman not only needs a guard dog, she needs James as well. It seems that someone from her past is stalking her, and threatening her life. When danger meets desire, will James risk his career and his best friend…to protect the woman who's stolen his heart?