In Island of Glass (The Guardians Trilogy #3) by Nora Roberts,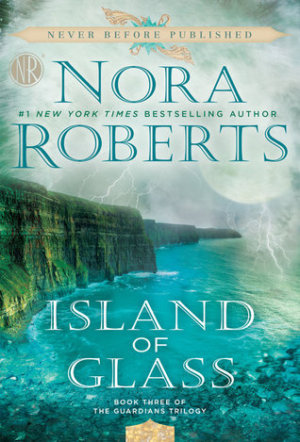 Immortal warrior Doyle and his five companions have reached what seems to be the final leg of their journey to save three stars created by goddesses centuries ago. But being back in his homeland of Ireland brings bad memories to light, memories which Doyle will have to confront in order to save mankind. By his side, though, is a beautiful archaeologist and wolf shifter named Riley who not only has his back in battle but who just may manage to steal his heart as well.
'…He knew in three centuries, with all he'd done, all he'd experienced, she was the only woman who'd managed to turn him inside out.'
Digging deep into research is something that Riley finds comforting but when it's a matter of life or death, well, that's something else altogether. But while she spends more time with Doyle as he assists in translating old text, she finds that the attraction she thought she could easily ignore is stronger than ever. Which is bad timing considering she has an evil goddess focusing on her and the final star to locate–as well as find the Island of Glass. Riley knows she and her fellow Guardians can win against Nerezza. But will she and Doyle have a future when all is said and done?
"Intellectual curiosity isn't a flaw in my world." Mildly insulted, she gave his shoulder a sharp poke. "I defy anyone sitting next to a three-hundred-year-old man not to have questions."
"The others don't badger me with them."
What a grand adventure! Island of Glass was the conclusion of The Guardians Trilogy and in it Nora Roberts brought the six unique members of the group to the shore of Ireland for a final showdown with evil goddess Nerezza. And what an epic battle it was.
"We'll seek the stars."
"And serve the light," Bran said.
"And guard the worlds," the others said together.
I'm honestly sad to see this series come to a close but it couldn't have gone out on a more positive note. Roberts was able to reveal all the final details about the legend behind the Three Stars and how they came to be as well as how/why the six Guardians were chosen. I thought it was a seriously cool world that she created for this fantasy series, with so many intricate parts that worked together extremely well. And each rather offbeat character had a major impact on the final outcome, from the Guardians themselves to the other secondary characters.
While we got to catch up with the two couples from previous books here (Sasha & Bran from book one and Annika & Sawyer from book two) the romance this time was between Riley and Doyle. I really liked the vibe between them. They were both warriors, he an Immortal and she a wolf shifter, and they had a good friendship blossoming. Neither one wanted to admit to their physical attraction, though, during such a volatile time as they battled Nerezza. But boy when they did finally give in…whew! Fireworks aplenty.
Doyle had to deal with a lot in this installment as he went back to where his home once stood in Ireland and had to face the bad memories there. I liked that Riley wanted to help him but wasn't sure how to go about it. It seemed real and made me feel like she truly cared for him. And I could understand Doyle's reluctance in getting involved with Riley, being an Immortal. He didn't want to have her resent him or to watch her grow old as he lived on. Thankfully the way things worked out in the end was pretty magical and fit them both perfectly.
I had such a great time reading Island of Glass. It had so many elements to love: from the battle of good vs. evil shown in the action-packed scenes, funny moments between friends, and a romance filled with heart and passion. Definitely recommended to fantasy fans.
Book Info:

Publication: December 6th 2016 | Berkley | The Guardians Trilogy #3
The final Guardians Trilogy novel from the #1 New York Times bestselling author of Bay of Sighs and Stars of Fortune.
As the hunt for the Star of Ice leads the six guardians to Ireland, Doyle, the immortal, must face his tragic past. Three centuries ago, he closed off his heart, yet his warrior spirit is still drawn to the wild. And there's no one more familiar with the wild than Riley—and the wolf within her…
An archaeologist, Riley is no stranger to the coast of Clare, but now she finds herself on unsure footing, targeted by the dark goddess who wants more than the stars, more than the blood of the guardians. While searching through Irish history for clues that will lead them to the final star and the mysterious Island of Glass, Riley must fight her practical nature and admit her sudden attraction to Doyle is more than just a fling. For it is his strength that will sustain her and give her the power to run towards love—and save them all…