It Started at Sunset Cottage by Bella Osborne: Kate, Sarah, and Andy are really good friends who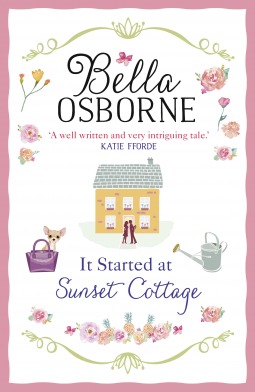 have no idea of how their lives are about to change. Kate is a writer and she's just coming out of her grieving process for her fiancé. Sarah is a devoted mom to her daughter, Amy, and she works two jobs to support them since the divorce from her good-for-nothing ex, Shawn. Andy is also try to enjoy life again after losing his brother (Kate's fiancé). He's throwing himself into fixing up the home he purchased.
Kate has sold the movie rights to her book and Marcus has invited her to Sunset Cottage for a few weeks where they can work together to adapt the book for film. Kate actually really needs the break and to throw herself into this project. She's excited to learn that Timothy Calder has been cast as the leading man in the movie, but she's not impressed with the actor when they first meet. Tim is the epitome of the sexy, charming leading man; he makes extravagant gestures and sweeps women off their feet, but he has no desire for settling down. Tim retreats to Sunset Cottage when his latest romance hits the skids…and the press. They get a chance to know each other and find they have some things in common.
When they meet again on set for filming, Kate sees a clearer difference between the Tim she came to know and Timothy Calder, the actor. She's intrigued by both, but she assumes they are nothing more than friends, especially when Tim acts hot and cold with her. Everything about Kate is different for Tim, and that really throws him off his game. Some of Tim's attempts to impress Kate fail spectacularly. They are opposites in many ways, but they balance each other out.
"Sorry about that, but a message would have been okay." Tim knew he could have left a message, but it didn't feel right. Kate deserved better and it had been a chance to see her, although not on her own, as he had hoped.
Sarah has her own concerns, mainly revolving around Shawn and how he causes so many problems for her. Andy really steps up and helps out both Sarah and Kate when they need it. Sarah begins to think of Andy differently, but she doesn't want to lose their friendship. Andy is the steadying presence that Sarah desperately needs.
It Started at Sunset Cottage is a sweet story that follows three friends as their lives significantly change. Sarah and Andy are truly main characters with their own storylines, which was unexpected, and some of the POV changes between all four characters were a little abrupt. Bella Osborne manages four main characters with two separate, but intertwined romances. Marcus, Didi, Concetta, and Amy are wonderfully entertaining secondary characters.
If you enjoy slow burn romances with tight knit friendships and some suspense, It Started at Sunset Cottage would be an enjoyable read.
Book Info:

Published February 12th 2015 by HarperCollins UK, HarperImpulse
Kate Marshall is slowly getting her life back on track after losing her fiancé. As an author she has been able to hide herself away from the world and its expectations – but now one of her books has been optioned for a film and Hollywood suddenly comes knocking on her door!
When Kate is given the opportunity to stay at a beautiful country retreat and concentrate on the screenplay, it's an offer she can't refuse. Encouraged by her best friend, sharp-tongued single mum Sarah, Kate sees it's finally time to stop letting life pass her by.
Looking for confidence and inspiration in the idyllic Cotswolds countryside, the last thing Kate expects is for Timothy Calder, A-list actor and leading man in the movie adaptation of her book, to turn up on her doorstep, hoping to lie low after his latest tabloid scandal! But after a rocky start, with Tim narrowly avoiding death by watering can, they find they have a few things in common: a liking for Lady Grey tea, walnut whips and bad 'knock knock' jokes. Actually, the bad jokes are just Tim.
As an unlikely friendship begins to blossom, and with circumstances repeatedly throwing them together, is Sunset Cottage where both Kate and Tim's lives will really start?