It's In His Heart by Shelly Alexander: Ella goes to the cabin that her husband, Bradley,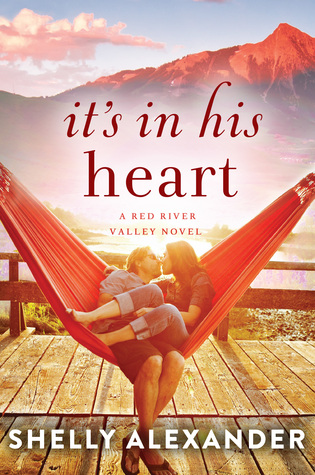 co-owned with his best friend Cooper to do one thing–to try to move on with her life. Once there, she discovers Cooper is staying at the cabin, hiding out from a legal battle. Both refuse to leave, and both have to get past the fact that they believe the other doesn't like them in order to co-exist.
I enjoyed this story. It's a light read with not a whole lot of drama. Two years after Bradley's death, Ella is trying to move on, only she struggles with how to do that. Cooper feels guilty for not being there for Bradley when he was dying, and Ella has some resentment towards him because of that.
I liked that Ella was such a caring person. Even though she was angry at Cooper, she was also there for him, never believing he would do the things he had been accused of. She takes the time to tutor Cooper's brother, Cal, who was failing classes because he was dyslexic and had no one to help him. Cooper, also being dyslexic, wasn't able to offer him much help, and he was grateful for Ella's efforts.
Two things bothered me. One was that Ella refused to admit to anyone that she wrote the books everyone was talking about. She didn't even tell her best friends. I would think if she was a best-selling author, no matter what genre she had written, she would want to share that with the people she was closest to. I could understand why she wouldn't want to tell her conservative family, but her friends were much more laid back and would have wanted to celebrate that with her.
The second thing that bothered me was the brief exchange Ella and Cooper shared in the past before Ella and Bradley became engaged. It seemed out of character for both of them, and it felt out of place. It also made me wonder if they liked each other back then, why did each think they were hated by the other person for all those years?
The ending felt a little rushed and could have been flushed out a little more, but overall It's In His Heart was a good read.
Book Info:

Publication: August 1, 2015 | Montlake Romance | Red River Valley #1
She has a secret. He has a scandal. And they both have an attraction they can't deny.
Ella Dennings is furious. Soaking wet, muddy, and furious. All she wants is to enjoy a quiet summer retreat in her Red River Valley cabin. Maybe she can finish healing after the death of her husband, Bradley. Maybe she can even finish writing that third book in her anonymously written bestselling series. But when she arrives at the cabin in a raging rainstorm, who does she find holed up there but Cooper Wells, Bradley's sexy best friend—a man capable of seducing women within seconds—and a man Ella has never liked.
Coop's got his own baggage. He's engulfed in a nasty legal battle, and after selling his home to cover his legal fees, he's got nowhere to go but the cabin. He and Ella will just have to coexist under one roof…but is their heated animosity boiling over into attraction? And when Ella's racy new book rocks the sleepy town, will her secret identity spell scandal for both of them?