In It's in His Kiss (Lucky Harbor #10) by Jill Shalvis, Lucky Harbor is the balm on her soul that Becca Thorpe has been looking for. Leaving behind the pressure her family has placed on her all her life, this is the first thing she's ever done just for herself. The last thing she needs when she meets her neighbor, Sam Brody, is to acknowledge the heady attraction they share. But Becca's days are spent in close proximity to the quiet, yet straightforward boatbuilder. As she gets to know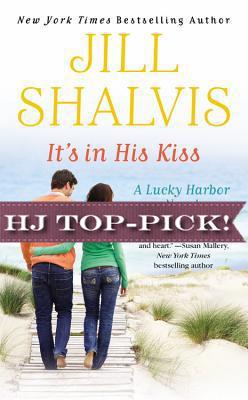 Sam better, she understands they both have some trust issues to work on, thanks to their troubled pasts. So when family issues come creeping back into their lives, will they be able to face the issues head on, or will they end up turning away from the future they could have together?
'She was falling for a guy who didn't intend to fall back. She got it, she really did. In Sam's head, love meant people relying heavily on you, and you couldn't necessarily rely on them back.'
Sam Brody enjoys the life he's carved out for himself and his two best friends, his chosen brothers Cole and Tanner, in Lucky Harbor. Their business is doing well but they could use some help getting organized and keeping their schedule updated. Lovely Becca Thorpe catches Sam's attention immediately when she moves in next door. She proves to be just as sassy as she is beautiful, which suits him just fine. But when he gets talked into hiring her at his charter business, he doesn't want to mix business with his personal life. Sam tells himself giving Becca an ultimatum: the job or dating him, is just to keep things from becoming unprofessional. Or is he just making excuses not to get emotionally involved?
"I swear," she gasped, "if you're just teasing me again–"
Planting his forearms on the wall on either side of her head, his big hands captured her face for another long, hard, deep kiss as he rocked into her. "Does this feel like a tease?" he asked.
"I don't know yet," she panted. "Depends on what comes next."
"You do. You come next, Becca."
Oh, God.
It's in His Kiss is the latest offering in the Lucky Harbor series from Jill Shalvis. I've been waiting to get more up-close-and-personal with hunky Sam Brody after the glimpses we've had in previous installments. And the quiet boatbuilder definitely did not disappoint!
There are a few things that I've come to love and expect when reading a Jill Shalvis romance: quirky small town characters, tons of fun & flirty banter, hot love scenes, and sexy alpha males. We have all of this in abundance here, for sure. I was surprised to find out that Sam was not necessarily the loner he appeared to be from previous stories. He had a "family" of brothers, Cole and Tanner, with whom he worked and who all looked out for each other. I loved the camaraderie between them (and their typical male antics) and that they took Becca under their wing after she moved in next door. She became like a little sister to Cole and Tanner, feeling protected for the first time practically ever in her life.
Now I can't get into details, obviously, about what Becca and Sam went through in their lives without spoiling things. But I will say that they both grew up being self-sufficient and not really getting the parental support the needed. So because of this, they understood each other on a level very few others may. I loved that connection, that pull they had whenever they were together. Aside from Becca's strength and being so spunky, I think my favorite thing about these characters was Sam trying to convey his feelings through his actions. I thought it was honestly something a lot of guys do: they show their love through protecting and taking care of their significant others, rather than saying those three words. It was wonderful to see a big, tough guy willing to act foolish for his girl and to put her first when no one had ever done so before.
Whether or not you are already a fan of the Lucky Harbor series, I think It's In His Kiss will turn you into one. This can easily be read as a standalone, but I'm pretty sure you won't want to stop with just this one!
Book Info:

Published August 26th 2014 by Grand Central Publishing | (Lucky Harbor #10)
ONE KISS CAN LAST FOREVER
Becca Thorpe has uprooted her life and escaped to the beach. Now's her chance to get away from city living, throw caution to the ocean winds, and live in the moment. Especially if the moment includes the deliciously sexy surfer she meets shortly after arriving in Lucky Harbor. Something about the dark intensity of Sam's eyes and the thrill she gets at his touch convinces her to stay awhile.
Boatbuilder and investment genius Sam Brody is a self-made man who knows how dangerous it can be to mix business and pleasure. But he can't resist offering Becca a job just to hear her laugh and have her near. Yet when her brother comes to town asking for help, will he tempt her back to her glamorous life in the city? Or do Sam and little Lucky Harbor have a chance to win Becca's heart?