It's in his Smile by Shelly Alexander: Forced back home because of his grandmother's will,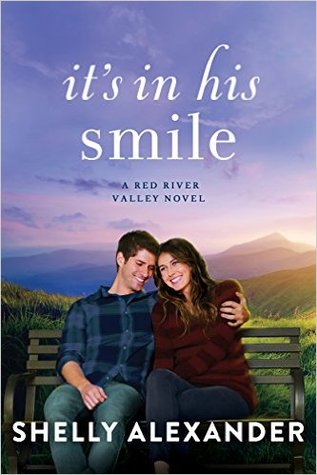 Talmadge Oaks career is about to go down the hole. To stay home may mean his eco-architecture project of the century will be destroyed, thereby destroying his reputation and livelihood, but leaving before he's allowed may destroy him financially. The one bright spot in staying is Miranda Cruz, the new owner of his grandmother's inn and her close friend, also the woman who he hasn't been able to get off his mind for seven years.
Miranda just wants to open her inn and prove to the town that she is more than her harlot of a mother. That means staying away from men and being successful with her new business. That also means staying away from Talmadge, her longtime crush, and the guy who's convinced her he's staying to help her finish renovating the inn for his grandmother.
As tensions between Miranda and Talmadge rise, the town gets more involved in their love affair, secrets come out, and promises will be broken.
A knowing gleam danced in his eyes, as if he could tell that she really didn't want him to stop. He looked away and studied the squeaking chairlift. "Sorry, but your fingers running through my hair definitely didn't scream 'let me go.'"
Although a slow start, I definitely enjoyed It's in his Smile. There is a whole lot of conflict and tension between Miranda and Talmadge, and I was just waiting on the edge of my seat for them to give in to it. Especially Miranda. A little too tightly controlled for me, but I got why and it certainly made for a fun time when she finally broke.
By the end, conflicts did wrap up too nicely which bothered me a bit, but the romance pulled through strongly, and definitely gave me a cute happy ending. For those who want a slow and sweet read and fiery tension, I recommend It's in his Smile. The third in a series, it can be read as a standalone, but I know I enjoyed the first two so I recommend those as well.
Book Info:

Publication: June 14, 2016 | Montlake Romance | Red River Valley #3
Miranda Cruz isn't just the best darned waitress in town anymore; she's Red River's newest innkeeper. But first, she has to find the contractor who's disappeared with her life savings so she can start renovations. Not so easy for a woman who never depends on anyone, especially a man. And when a gorgeous old flame shows up, the fire between them is reignited and threatens to send her dreams up in smoke.
Acclaimed environmental architect Talmadge Oaks returns home to Red River on family business. He plans to get in and get out quickly because a professional catastrophe is waiting back in Washington. When an unforeseen snag keeps him in Red River longer than expected, he finds himself entangled in the renovations of his late grandmother's Victorian inn. Handy with a hammer, he offers to help the beautiful new owner, but his motives aren't completely selfless. Will his secret demolish everything they are building? Or can their undeniable passion keep them together?