In Jagged (Colorado Mountain #5) by Kristen Ashley, Zara Cinders has dealt with a lot in her life and she'd like to think it's only made her stronger. But when she pushes Graham "Ham" Reece away in an effort to find a guy who's ready to settle down, she wonders if she just made the biggest mistake of her life. Ham has always been there for Zara when she needed him, but he isn't the type to put down roots in one place and get married. She desperately wants to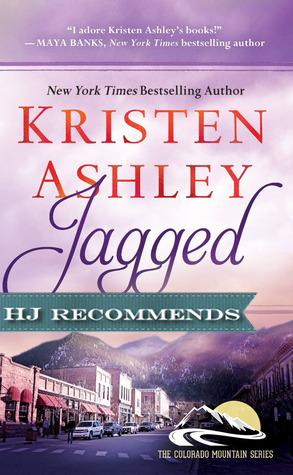 have a solid relationship and to feel stable after the household she grew up in. Zara's world crashes and burns a short while later, after one thing then another falls apart. Ham reappears in her life just when she needs him most, but is it too little too late?
"But if a woman loves you, truly loves you, baby, she lets you be the man you have to be. She doesn't change you into the man she wants you to be."
Graham Reece has always held a special place in his soul for Zara. She's one tough cookie who has been good to him, giving him breathing room and she's easy to get along with. Ham knows he should have pushed harder when Zara broke off their long distance casual relationship. He knew she was settling and not thinking things through. But after a serious event has him rethinking his views on life and yes, love, he jumps at the chance to go back to Colorado and do right by Zara. Even though she resists at first, Ham knows he is the man who can make her happy…forever.
"I love you, Zara."
"…You get those words because you give them. You say them and you mean them. No bullshit. No lies."
Jagged is a powerful romance by Kristen Ashley. I've read her Chaos Motorcycle Club series and loved the down-to-earth characters and sexy alpha males she introduced us to. This is my first foray into the Colorado Mountain series, but I'm excited to read more about this interesting community in the future.
Kristen has a wonderful way of creating dialogue that is so raw and honest it's just incredible, and it draws me in every time. She doesn't mince words…it's always a very realistic conversation between characters that are able to convey precisely what they are feeling and the depth of their emotions. I had a really hard time deciding what quotes to use for this there were a lot of moments in Zara and Ham's story that were deep and meaningful, especially given everything that they must go through together.
'I didn't have everything. Because, if you worked hard for it, if you didn't give up, even when you found your way and you thought you had everything, life found a way to give you more.'
There are a lot of secondary characters in Jagged, all of whom are intriguing in their own way. I found as I made my way through the story, it was pretty easy to keep track of them even though I hadn't read anything else in this series yet. Without giving too much of the plot away, suffice it to say that family dynamics plays a pretty large role in Zara's life. Both good and bad. I enjoyed getting to see both her and Ham's side of the story as it was happening where the POV changed back and forth in a very smooth manner every so often. It helped me have a better sense of their true feelings for each other.
If you're a fan of sexy romances that are full of strong emotions (and a dirty-mouthed alpha male), I'd recommend reading Jagged. It has a truly lovely HEA that will make you sigh oh so happily.
Book Info:

HJ Recommends
Published November 5th 2013 by Forever | Series: Colorado Mountain #5
An old flame rekindled . . .
Zara Cinders always knew Ham Reece was the one, but he wasn't interested in settling down. When she found someone who was, Ham walked out of her life. Three years later, Zara's lost her business, her marriage, and she's barely getting by in a tiny apartment on the wrong side of the tracks. As soon as Ham hears about Zara's plight, he's on her doorstep offering her a lifeline. Now, it will take every ounce of will power she possesses to resist all that he offers.
Ham was always a traveling man, never one to settle down in one town, with one woman, for more time than absolutely necessary. But Ham's faced his own demons, and he's learned a lot. About himself, and about the life he knows he's meant to live. So when he hears that Zara's having a rough time, he wants to be the one to help. In fact, he wants to do more than that for Zara. A lot more. But first, he must prove to Zara that he's a changed man.