Joy Ride by Lauren Blakely: If I was going to place a bet on an author to consistently deliver a FANTASTIC romance time and time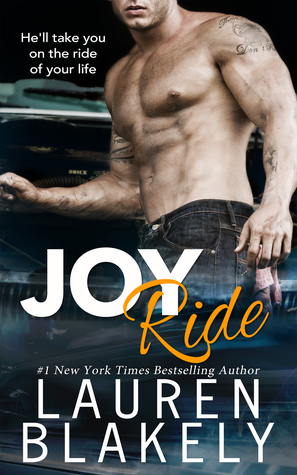 again, I would put all my money on Lauren Blakely. She always writes amazing comedic romances—they are sexy, entertaining and always original. Consider me a fangirl.
Henley and Max USED to work together at his highly successful custom automotive shop, and their association didn't end so well five years ago. Henley was his apprentice for a year and did not get a permanent position after her tenure, and she was pissed she didn't, to put it mildly. She knew she was the best amongst the other apprentices, and she believed Max did not hire her because of a forgivable mistake she had made and because she is a woman. This actually wasn't the reason but Max never clearly explained what happened—at the time he thought he was doing what was best for her and her career.
Henley's made a name for herself in the past five years, and she's back working in New York for Max's biggest competitor. When they see each other again, the sparks fly. They have always had relationship filled with playful, button-pushing banter, but Henley is now angry and their repartee is snarkier but still flirty. These two have some combustible sexual tension, and they are driving each other crazy in lust-filled, good kind of way.
What Max never acknowledged while they were working together is that he was very attracted to Henley. He didn't even acknowledge it to himself, because he is a professional and she was his subordinate. Now that she is back and not working for him, he discovers what he tried to deny years ago—she might drive him nuts but he wants her badly. She's always wanted Max; therefore, it is no surprise when these two end up in the bed and on top of the car. 🙂  Now that their attraction is out in the open, they have to deal with the past and Henley's feelings over being let go and the bigger problem of potentially being a conflict of interest now that they are competitors.
Max is simply dreamy. He is not only charming and sexy, but he is also truly nice guy. I have to say he is one of my favorite Lauren Blakely heroes. Henley is also an amazing chick. She's working in a male-dominated industry and kicking butt. She's strong and goes toe to toe with Max, who I would assume is a fairly intimidating guy. Joy Ride is a must-read; it is truly a fun ride from beginning to end.

Book Info:

Publication: 5/1/17 | Self-Published – Lauren Blakely |
Let's be honest, ladies. A good man is a lot like the perfect car. You want a hot body, an engine that purrs, and superior performance under the hood…for the best joy ride of your life.
I'm at your service. Ready to go all night long.
But then a wildly sexy brunette appears in my life and throws a wrench in all my plans. She's fiery, she's talented, she's gorgeous, and I'd really like to know what makes her engine hum.
Henley also happens to be my biggest rival, and now we're forced to work together every day on the most important custom car build of my career. The trouble is I can't quite figure out if she wants to kick me in the lug nuts or beg me to give her a good, hard fuel injection. Until one night that question is answered on the hood of a sports car when she calls out my name three times. And we can't seem to put on the brakes.
If sleeping with the enemy is a bad idea, how much more dangerous would it be to fall in love with her?