Just a Little Kiss by Renita Pizzitola: Mason is the perfect summer boy for Felicity. Hot, on the rise, and definitely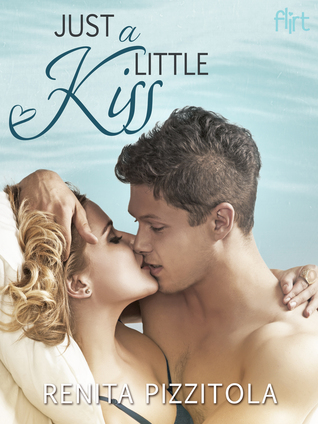 willing to take Felicity with him. If only Felicity could use him as such like her friend recommends. But stubborn to make a go of it herself, Felicity refuses to use Mason, especially when she just might fall in love with him.
After trouble with an ex, she hasn't had a real relationship since, just summer boy flings. But Mason refuses to just be a fling. Warned against using her for fun by her friends, Mason jumps right in, working past Felicity's stubbornness and need for control.
"Her silhouette slowly came into view on the neighboring boat. She tucked her hair behind her ear but I t did nothing to tame the waves tumbling over her shoulders. And it hit me … I knew that hair. I knew that body. Hell, I even memorized the face to go with it. God knows I've spent enough time staring at it this afternoon. I cleared my throat then said, 'You're –'
'Colby's friend.' Her words came out too quick, almost nervous, then she added, 'And from the restaurant.'
Yep, I knew exactly who she was, and I'd also committed her name to memory in hopes of getting just this chance. 'Felicity,' I said.
It was too dark to make out the subtle features of her face, but I was pretty sure a smile appeared which almost helped me forget about me stomach being so wrecked."
While a slow start, Just a Little Kiss got better and better. As Mason works harder and harder for Felicity, and as she lets go a little, the story becomes way more interesting. In the beginning, both just seem a little whiny and a little too inert, especially Felicity. I wouldn't say I ever loved Felicity, but by the end I loved Mason.
All their friends and family I definitely enjoyed, but the romance is definitely focused on the two, and their various issues. I would have liked a little less hesitation on Felicity's part, but Mason made up for it by not letting Felicity give up on them. Otherwise, they both did have decent development and growing relationship that I, eventually, really loved.
I'm definitely interested in checking out the first two in the series, the other couples I saw were definitely intriguing. For any New Adult fan, I'd recommend checking out Just a Little Kiss by Renita Pizzitola.

Book Info:

Publication: August 25, 2015 | Flirt | Crush #3
In the sizzling new novel of Renita Pizzitola's Crush series, Felicity knows that "Summer Boys" are only good for one thing. But what if hooking up with the right guy could lead to a fresh start?
Like most of the residents of her dead-end beach town, Felicity Daniels doesn't know what she wants from her future. Instead of college, she's waiting tables at the local grille where she's more likely to run into the guy who was the love of her life—until one decision changed everything. Now as this year's tourist season kicks in to high gear, Felicity realizes that whatever she wants isn't going to be found here.
Mason Hayes is the quintessential Summer Boy: hot, impulsive, and born without strings attached. While in town helping with the family fishing charter, he plans to have a little fun—and hopefully get over a certain girl. He's never had a long-term relationship, but when he meets Felicity, he wonders if he's found the girl who could change that.
With her heart still in repair, Felicity's happy to have a distraction like Mason, but her best friend thinks he could also be her ticket out of this town. What's the harm in using him to escape more than just her boredom? After all, he is just a Summer Boy, and they never stick around. But after one kiss, Felicity wonders if only one summer with Mason will ever really be enough.