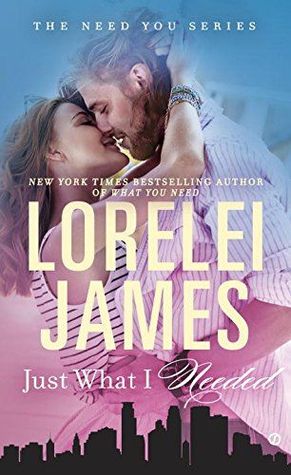 Just What I Needed by Lorelei James: Walker loves his job running a renovation and restoration construction company. He's very happy to only have minimal involvement in the Lund family business. He has a very close and tight-knit family with a mom who is endearingly present in his life. He tends to be the one family member to step in and take care of everyone else.
Trinity is a talented artist who loves to experiment in different mediums and burns with the need to create. She lives right along with her art and experiences highs and lows depending on how her latest creation (and career) is progressing. After losing out a potential commission, she heads to the bar for girls night only to be left when her ex waltzes in. In a desperate moment, she grabs the hottest guy who walks in and introduces herself…in a memorable way.
He brushed his mouth across mine and whispered, "Guess it's my lucky day."
My lips parted to say, "Mine too," but no sound came out.
"How about we have a drink and you can tell me the real reason you used your tongue to introduce yourself instead of a handshake."
Both are surprised by the instant connection they have. They immediately hit it off with definite potential for more, but Walker ends up leaving that night with both the wrong name and wrong number. Luckily for them, they both happen to be involved in the same event for his family's community outreach program.
Neither really have the time for a relationship, but Walker is nothing if not persistent in going after what he wants. They have off-the-charts chemistry with plenty of banter to keep things interesting. Trinity tends to get caught up in whatever project she has going on, but Walker quickly learns how to help her take breaks and deal with her nervousness and social anxiety.
"Who is it?"
"My parents."
"What!"
He tugged me towards the door and I dug in my heels-my bare heels-and I almost landed on my ass. "I cannot meet your parents looking like this."
Just What I Needed is entertaining, humorous, and steamy with a family that I am loving getting to know one book at a time. Lorelei James built the anticipation while developing great characters. Ms. James continues to build an engaging and colorful family in the Lund's with a true gem in Walker's mom. Just What I Needed can be read as a standalone in the Need You series. Fans of Kristen Proby and Jennifer Probst will enjoy Just What I Needed.
Book Info:

Expected publication: August 2nd 2016 | Signet | Need You #2
The second sexy novel in the Need You series, from the New York Times bestselling author of the Mastered Series and the Blacktop Cowboys® Series.
Trinity Carlson might be having the worst day ever. And that was before she started drinking in a dive bar, right across from her ex and his new girlfriend. So when she finally decides enough is enough, she grabs hold of a hot, blond stranger and gives him the kiss of his life.
Walker Lund never expected that a chance at love would hit him right on the mouth. Since the moment his brother decided to settle down, Walker has been dodging his family's hopes that he'll do the same. He's never been interested in following in anyone's footsteps. But when he discovers his sexy assailant has given him a fake name and number he suddenly finds himself in the mood for a little hot pursuit…