Keeping It Hot by Sydney Landon Zoe has been in love with her best friend Dylan forever. It's too bad that he's never really noticed her as anything other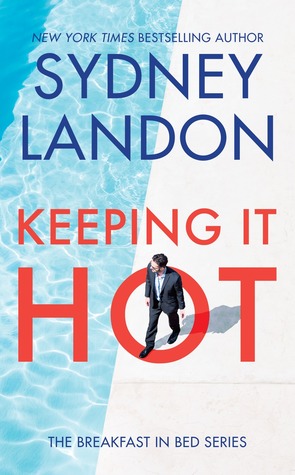 than his best friend. At the urging of her best friend and employee, Zoe decides it's time to finally make a play and get Dylan's attention for once and all. With Zoe's 30th birthday coming up, it's time for a change.
Zoe has always been one of the guys for Dylan; she dresses more for comfort rather than showing off her fabulous figure. They are always spending time together. Dylan runs his families' Oceanix resort in Florida while Zoe runs a coffee shop on the resort. Dylan is definitely sexy, charming, and a workaholic. He has certainly enjoyed plenty of flings while holding Zoe in reserve. He's a big fan of routines, so when Zoe suddenly appears in new, sexy clothing his entire world is turned upside down.
"Everything all right?"
Waving a hand at her, he asked, "So what's with the new clothes again? I know you said the dress last night was for a date, but you're all…different today. I thought that was a one-time thing."
Between the new clothes and Zoe's willingness to go on more dates, the changes in Zoe has Dylan seeing green. He can't stand that Zoe is going out with other men while at the same time he's confused by the growing attraction he's experiencing. Zoe's plan certainly seems to be working and much more quickly than expected. Finally crossing that line from friends to lovers is everything she expected and more.
"Now, now," he teased, "that mouth was what got you dunked in the first place. If you're not a good girl, it's going to happen again."
Doing her best to look contrite, she said, "I'm sorry. You know I didn't mean it." And of course, as she'd expected, he fell for it hook, line, and sinker.
Keeping It Hot is fun, sexy, and a great beach read! Sydney Landon entertained with great dialogue, interactions, and chemistry. Ms. Landon turned up the heat with a new series that promises to be as good as the Danvers series. Fans of Jenna Sutton and Lorelei James will enjoy Keeping It Hot.
Book Info:

Publication: July 4th 2017 | Berkley Books | Breakfast in Bed #1
The New York Times bestselling author of Wishing for Us delivers a new novel about finding love and adventure with the sexy businessman next door….
Zoe Hart owns the coffee shop in one of the hottest upscale resorts in Florida, run by her childhood best friend, Dylan Jackson. Even though Dylan is a workaholic, he still finds time to enjoy the beautiful women who pass through his hotel all of them except Zoe. She has been in love with Dylan for years without him noticing. But with her thirtieth birthday fast approaching, she realizes she can't keep pining away for a man who doesn't show the merest sign of romantic interest in her.
When Zoe launches her plan to shed her tomboy image in Dylan's eyes, she's thrilled once he starts to notice her in a whole new way. But she ll have to face the risk that seducing her best friend might come with lasting changes to their longtime friendship…