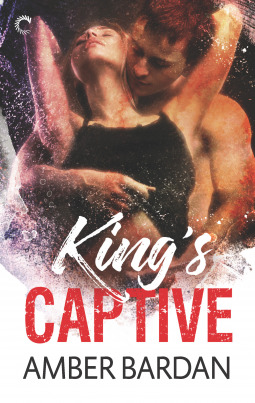 In King's Captive by Amber A. Bardan, Three years under Julius King's watchful eyes has brought about changes between him and his captive. Since being taken on what she's come to think of as her 'bloody birthday', she knows little things about him now; things she may be able to use to get under his defenses and gain her freedom from this infernal island. But the biggest change is the growing electric pull between them. And try as she might she just can't stop herself from wondering what will happen if she's unable to control her attraction to her captor.
'Julius's voice compels surrender. Every single day it's this–this temptation beating in my blood. Begging me to try. See what it'd be like to just-give-in.'
Julius has done things in the past that may be looked at as wrong, but were necessary to get to where he is today. And thanks to a few connections along the way, he's now on the path to redemption. The world he's mixed up in may still prove to pull him under and destroy him, but not before he takes down his enemies first. Julius would like to believe he can keep his captive safe and have the future he's always dreamed of, but he has his work cut out for him when she shows her steely fortitude and battles against him, mentally and emotionally.
'One day I'll pay for my deeds. I'll pay for the blood I've shed, the evil I've perpetrated. I'll pay just like they will–but not until I'm done.'
King's Captive was a mind-bending novel where nothing was as it seemed and the emotions ran high. Author Amber A. Bardan kept the twists coming until the very final page where, once the dust settled, the complete shocking truth finally came out.
'What do you do? What do you do when something warm forms with your enemy?'
Having read Bardan's previous novels I thought I knew what to expect. And granted, there was a rough around the edges alpha who liked to push the limits, plus a strong-willed heroine who definitely had a backbone, like in Bardan's other books. And this was even a kidnapping(ish) trope like in Didn't I Warn You?. But the storyline here was so much more complex and involved than I could have imagined. And boy did it tug on those heartstrings! Told mostly from our heroine's POV with a few glimpses into King's mind, this bounced back and forth from her 'bloody birthday' to the present day on the island.
Now I will warn that King's Captive may contain a few triggers for some readers as it's fairly explicit–and not just in the romance department. Our hero and heroine were mixed up in a world of crime and brutality, with carnage surrounding them throughout the story. From murder to weapons and drugs, mind games and power plays, parts of this story will not be for the faint of heart. But underneath all the lies and deception was a heartbreaking story of grief and love lost that struck a huge chord with me and had me tearing up on more than one occasion. I may not have agreed with all of our heroine's decisions (or Julius's), but I think once everything is revealed, it will be clear why things happened as they did.
What an unbelievable ride. A multilayered standalone story that starts off at an easy pace and then picks up quickly in intensity, King's Captive will have you guessing who is who, who can be trusted, and ultimately how King and his captive will ever reconcile their situation.
Book Info:

Published February 1st 2017 | by Carina Press |
For three years, I've belonged to Julius King.
Some people would think being stuck on a private island is heaven, but this is my hell.
Because I'm not here as a guest. Not even close. I'm a prisoner. I'm his.
Julius King. Powerful. Wealthy. Dangerous.
There are parts of me he wants that I can't give him. When he looks at me, there are times I swear he sees someone else. And the scary part is that sometimes, when he touches me, I think he may be someone else, too.
Though my body might be tempted, and he might control everything else, I can't let him have any piece of my heart. I won't. But every day, the fight gets harder, and Julius manages to slip past my defenses in the most unexpected ways.
I have to find out the truth about Julius King. Even if it destroys me.
This book is approximately 81,000 words
One-click with confidence. This title is part of the Carina Press Romance Promise: all the romance you're looking for with an HEA/HFN. It's a promise! Find out more at CarinaPress.com/RomancePromise