Kiss Marry Kill by Sidney Halston is the first book in the Iron Clad Security series featuring co-owner Jackson "Jax" Irons. Five years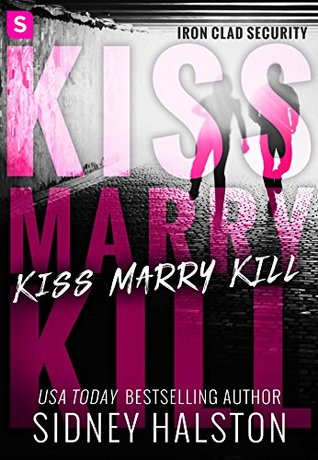 earlier he had met a young woman at a baseball game, there with her stuffy fiancé. Together they take off, and in the following four days before his next deployment, he teaches her how to live for herself, not for her parents or her fiancé. After an ambush put him permanently out of commission, he's now running Iron Clad Security with his friend Josef. The last thing he expects is to see the woman he couldn't stop thinking about again one night on the news.
Five years earlier Megan Cruz had been trying to please her parents. On the verge of starting law school, she meets Jax. He helps her to realize what she truly wanted. Now the lead singer of the band TNT, she has a problem. A stalker is out to get her, going as far as breaking into her house. Jax rushes to her side, offering her protection from Iron Clad Security. As the two get to know each other again, can they make it last this time?
This book grabs you from the first page and keeps you hooked until the end. The author does a great job with character development, switching between the past and present to give readers an idea of who they were previously versus who they were now. It also enables readers to understand their previous relationship and why Jax felt compelled to rush to Megan's side. There is a twist which I was able to predict, but it was handled so well that I wasn't disappointed that I figured it out.
Readers are introduced to other members of Iron Clad Security, mainly Joey and his sister, Annie. There were hints that the next book will be Annie's. I'm looking forward to seeing her out in the field, considering Joey and Jax insisted on her working only behind the scenes. I enjoyed when she finally put her foot down with them.
Kiss Marry Kill was a great start to the series. If you enjoy romantic suspense, I highly recommend giving this book a try.

Book Info:

Publication: March 28, 2017 | Swerve | Iron Clad Security #1
He's been chasing a memory . . .
It was just supposed to be a regular Thursday afternoon…and then he saw her. Sitting in seat L214, one seat over from his at the baseball game, right next to her douche of a soon-to-be-ex-boyfriend. An impromptu kiss for the kiss cam, and Jax knew his life would never be the same. Five years and a tour in Afghanistan later, Jax is back stateside running his own private security firm, Iron-Clad, with his best friend. He isn't the man he used to be… but Megan isn't the sexy and sweet, though sheltered, twenty-two-year-old he left behind, either. And she's in trouble.
…but now they're on the run.
Megan Cruz has made something of herself. She's turned her dreams of pop stardom into a reality. But when a deadly stalker breaks into her home claiming to be her number-one fan, the only person she can turn to is the boy who got away. But Jax isn't the same carefree charmer who stole her heart, then broke it when he joined the military. This man is seductive, hard, guarded. And he'll do anything to protect what's his.