In Kiss of Wrath (Deadly Angels #4) by Sandra Hill, Millennia have passed since Mordr the Berserker had to witness the cruelty payed upon his people while he was at war. Even years of avenging their deaths couldn't bring closure. All it brought him was a new life, given to him by the Archangel Michael, as a Vangel, or a Viking Vampire Angel. Mordr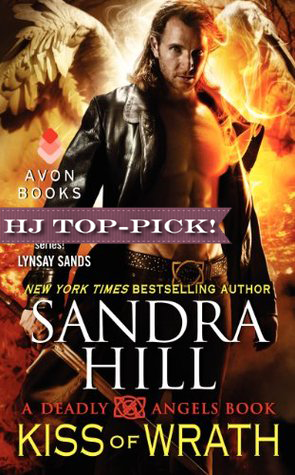 and his six brothers were tasked to fight Lucifer's own creation: Lucipires, demon vampires, to keep humans safe.
'For the first time in what seemed like forever, lust passed over him in waves so powerful he could scare contain the urge to toss the wench over his shoulder and carry her to the nearest bed furs.'
Michael's newest job for Mordr is to watch over Miranda Hart and her five adopted children while a frightening scenario plays out in her hometown of Las Vegas. Evil seems to be lurking everywhere, so it is up to Mordr and his brothers to battle those forces before more recruits can be drawn to the side of Lucifer. Only, Mordr becomes infatuated with Miranda and her little bratlings, surprisingly, since he hasn't allowed himself to feel such emotions in hundreds of years. He's willing to put himself in harm's way to save them, but will he be willing to put his heart on the line, too?
"Of course I am attracted to you. Is that not what I have said?"
"Actually, no."
"Then, let me say it plain. I like your attire and how you look in it. Too much! I just wonder if I will be able to resist your temptation?"
Five children. Single psychologist Miranda Hart was left five children when her cousin passed away. She thought taking care of them would be the toughest task she would face. But when their abusive father is released early from prison, Miranda worries about their safety being at risk as well. Her prayers are answered, literally, when Mordr Sigurdsson shows up at her door. Unsure how a huge, gorgeous, brute of a guy can take care of the five loves of her life without scaring them to death is beyond her. But somehow Mordr manages to whip the house into shape and control the kids along with it, all the while causing Miranda's heart to stutter. As the threats from the kid's father escalate, Mordr confesses who and what he really is: a Vangel. She should be frightened for their lives, but he has proven his loyalty to keeping them safe. What Miranda is actually worried about is what will happen when Mordr must move on.
'Wait 'til she told the women at work what she had waiting for her at home. A Viking nanny. Or a Viking house manager. Whatever. He was damn hot and in her kitchen.'
I am so in love with Kiss of Wrath, I can't even begin to put it into words! Okay…well, maybe I can. So here goes.
The idea of a Viking Vampire Angel was a bit hard for me to wrap my mind around at first, but as I got into the story it made complete sense. And it is a really beguiling (but fun) concept when you think about it. Seeing Mordr, the burly Norseman born over eleven hundred years ago, the slayer of Vampire Demons, have to deal with five hysterically chaotic children and all of their modern everyday issues was pretty funny. Even funnier was how Mordr communicated with Miranda. She obviously wasn't happy being called wench, even lovingly, but did like being called sweetling. Awwwww. My favorite was when he called the children out on their behavior, referring to them as bratlings. Again, lovingly. 😉 That just illustrates what I liked best about the story. The current of humor running through it. Now, I loved the plot, of course. And that in combination with the funny just perfected it for me.
I also think the comicality helped balance the darker undercurrent of Mordr's past. What he had to witness firsthand would have certainly driven most men berserk, and the fact that he could bring himself out of that dark place and function again was impressive. Miranda definitely helps Mordr in that respect. Her being a trained psychologist didn't hurt. But her caring manner and willingness to be there for him if/when he decided to open up to his pain made all the difference in the world. And the two of them together was something else. Hot doesn't even begin to describe it. The romance was full of lighthearted moments, but also a wild connection that nothing could break. Can you say steamy and smoldering?
I truly hope paranormal romance fans out there give Kiss of Wrath a try. If you like your stories with a lot of wit, a great plot, and unforgettable characters, this one is for you. I am a Sandra Hill fan for life after reading Mordr & Miranda's road to romance!
Book Info:

Published May 27th 2014 by Avon
No wicked wenches or wild rampages…it's been centuries since Mordr the Berserker was turned into a Vangel-a Viking Vampire Angel-as punishment for his sin of wrath, and he's been frustrated ever since. It's not so bad being stuck in modern-day Las Vegas. What better place to slay Lucipires, or demon vampires, than the original Sin City. But then Mordr Sigurdsson's mission is expanded to a new assignment: protect lust-worthy Miranda Hart.
Miranda's well-ordered life turned into chaos when she unexpectedly inherited her late cousin's five children. Now, her cousin's dangerous husband is about to be paroled, and she needs a miracle to keep them all safe.That miracle arrives on her doorstep in the form of a very buff, handsome man with a very strange name. Mordr wants nothing to do with a red-haired wench or children. Miranda wants nothing to do with gorgeous hunk who claims to be a Viking.
As Miranda and Mordr give in to temptation, they must decide if they fit in each other's worlds-before their enemies close in on them.