Last Kiss by Laurelin Paige finds Emily Wayborn caught between a rock and a hard place; she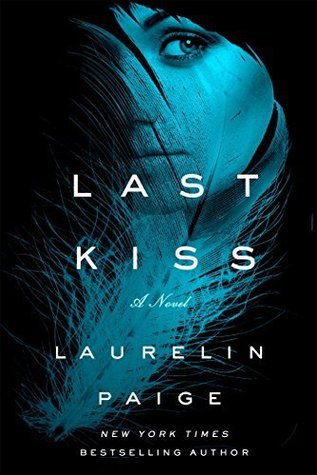 loves Reeve Sallis, but her former best friend, Amber, had dated him first and wanted him back. When they were younger, the girls made a pact never to let a man come between them. Emily tries to find a way to step back from Reeve, but he's not having it. He wants Emily, not Amber, and he's determined to make her understand that. Amber is convinced her last lover--who happens to be Reeve's uncle– is after her, and when threats start being made and animals and people start being killed, Reeve needs to find a way to keep both women safe.
First, I highly recommend reading the first book in the series, First Touch, before reading this one. I had not read it, so when I started this one it felt like the story was a continuation of another book. It just jumps right into Reeve and Emily's relationship, along with Amber's return to Reeve's ranch with no background as to how Reeve and Emily met, or how their relationship started, or why Emily was at Reeve's ranch to begin with. It made it a little difficult to get into the story at first. That being said, as the story progressed, those of us who haven't read the first book get a very basic understanding of what led Emily to Reeve.
Emily and Reeve have very passionate and steamy interactions with one another. There is a bit of rough sex, and while I don't judge what other people are into, there were a couple of choking sex scenes that weren't really my thing.
I liked Emily and Reeve, but I absolutely hated Amber. She's terribly selfish. Even when Reeve made it clear that he wanted Emily, Amber still tried to guilt Emily into leaving him. I couldn't understand why she would still want a man who made it abundantly clear that she was not going to win his heart. Emily, loving Reeve and loving the Amber she used to know when she was younger, was caught in the middle; stay and hurt the woman she still considered a friend, or leave and hurt the man who loved her. She was in a no-win situation either way, and Amber was a lousy friend to put her in that situation.
I enjoyed the twist involving Reeve's uncle and Amber. Just when I thought I knew what was going on with the threats, it turned out to be something else completely. It was a well-written twist.
Overall I liked Last Kiss. If you enjoy suspense, a little bit of mystery, and plenty of hot action between the characters, it's worth checking out.

Book Info:

Publication: June 14, 2016 | St. Martin's Griffin | First and Last #2
Emily Wayborn has made a decision.
She might not fully trust handsome and deadly Reeve Sallis, but he is the one person that gives her what she needs. With Reeve she can finally be herself. Submitting to him is the only thing keeping her grounded as the rest of her life falls apart. But the hotelier is a master at keeping secrets and as she continues her quest for answers someone is making sure she doesn't find them.
Time is running out and she is questioning everything she thought she knew about friendship and love. She must now make an impossible choice that will determine if she will survive with her heart…or at all.