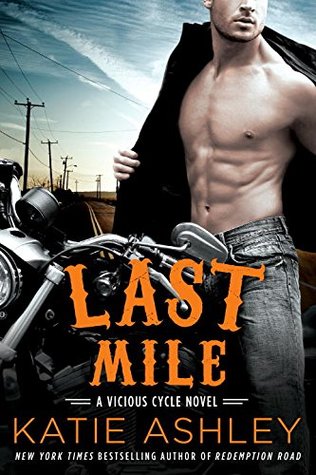 Last Mile by Katie Ashley: Bishop grew up in the Hells Raiders MC and being a biker is all he's ever known. He fully supports the club's direction to go straight and he's making plans for his own future to be more than a mechanic.
Samantha grew up wanting to be just like her dad. After witnessing his death at the hands of a biker, she despised all bikers and viewed them as soulless lawbreakers. Sam loves her job as an ATF agent and she's very good at it. But she's not thrilled with her latest assignment to take down the Hells Raiders. It brings up so many painful memories, but at least her best friend and partner will be with her. Their plan is to get close to Bishop and other club members and collect evidence.
Sam is truly surprised by what she finds. The club, its members, and Bishop aren't at all what she expected. Bishop is a generous and loyal brother who's great with kids and loves boxing. He challenges her perceptions about MC's in general as they discover they have quite a bit in common.
"How can I be sure the odds aren't stacked against me? You know, since I'm new to the game and all."
"I said I would go easy on you."
She gave me a skeptical look. "Hmm, we'll see."
"How about this? To demonstrate my good intentions, I'll let you go first."
Sam also finds herself conflicted. She wants justice, but she learns that this case is hardly open and shut as she meets and gains the trust of the brothers and their better halves. Both Bishop and Sam struggle with the palpable attraction they have as they want more than just friendship. She challenges and pushes him.
Cocking my head at her, I asked, "Having second thoughts?"
She swallowed hard. "No. I'll be fine."
I laughed as I got on my bike. "Don't worry, sweetheart. I'll take good care of you."
"You better. If I end up roadkill, I'll find a way to haunt you as punishment," she said as she slid on behind me.
Last Mile is sexy and thrilling! Katie Ashley certainly delivers the heat as the conflict built for Sam, Bishop, and the MC. Ms. Ashley created another strong, intelligent heroine who isn't afraid of taking on her alpha male counterpart. Last Mile can be read as a standalone in this series. Fans of Jeanette Murray, Elle Kennedy, and Megan Crane will enjoy Last Mile.
Book Info:

 Expected publication: May 3rd 2016 | Signet | Vicious Cycle #3
Katie Ashley, the New York Times bestselling author of Redemption Road and Vicious Cycle, returns to the dangerous and seductive world of the Hells Raiders motorcycle club…
After her father was murdered in the line of duty, ATF agent Samantha Vargas is determined to take down the scumbags of the drug trade. When her partner takes on a case to infiltrate the Hells Raiders MC, Samantha agrees to go undercover as his old lady but is surprised to find herself drawn to the very man she is investigating.
Benjamin "Bishop" Malloy has worked hard to carve a place for himself both in and out of the MC world. Working days as a mechanic, he spends his nights rebuilding motorcycles with the hope of one day owning his own shop. After taking one of the club's new hang-arounds under his wing, Bishop is conflicted over his growing attraction for the man's girlfriend.
Even though she's determined to bring down the Raiders, Samantha discovers their world isn't as black-and-white as she thought. And as the stakes grow higher, she's in danger of losing more than her heart.