In About Last Night by Scarlet Wilson, when Dr. Evan Hunter saw Dr. Violet Connelly in a silver dress and spiked heels in a bar, he had no resistance to her. He kissed her with a passion not appropriate for a boss and subordinate, that was something that he could not stop and that he knew he may have taken it too far since she may have been too drunk to even remember.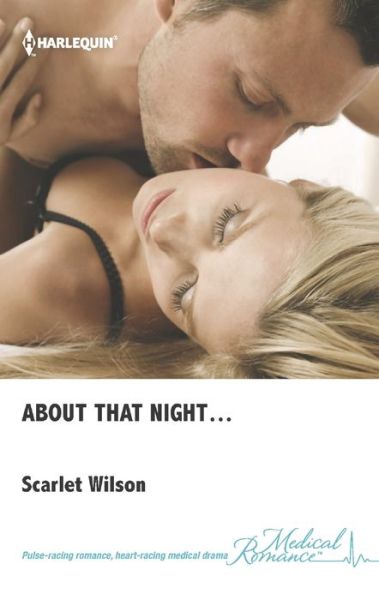 Violet remembers her one kiss with Evan, but she knew that she had to act like nothing had happened, because nothing could happen, ever. Evan was the leader of the team that was with her brother Sawyer when his wife died, and for some reason Evan and Sawyer hate each other, only neither has ever mentioned what really happened. And she can't ask what happened since she has kept her relationship with Sawyer a secret from everyone at DPA.
Violet has been doing everything she can to try and keep Evan off Sawyer's back while the potential outbreak in Chicago is solved. But not following orders may put her in hot water with the director and if she goes down she is taking Evan with her. Only she finds out that her transfer to on field work has been approved and she is going to Africa, the bad news is that they are sending Evan with her as the team leader.
Now Violet and Evan will be working together while they try to help the people there and teach them about the benefits of polio vaccine and try to vaccinate as many people as possible, but especially the children. The only problem is that there are people that are against it and are kidnapping and hurting the doctors that have gone to help.
Evan knows that Violet being Sawyers sister changes things, but his feelings have not changed no matter how much he wants them to. He has wanted her for months, and even if thinking about her being related to Sawyer will cool him down, it does not erase everything.
The close contact and quarters will make things difficult for both Evan and Violet, for no matter how much they want to keep things professional, the chemistry and attraction they feel will not be denied for long. But they will have to open up about the secrets they have and have been hiding from if they are to be able to be together. And the danger that surrounds them will not make things any easier, but definitely more interesting.
About Last Night is the second book in this duet by Scarlet Wilson, and I can honestly say that I loved it. Both books kept me turning the pages and unable to put either down till the very end. If you love a good Medical Romance with secrets, that haunt the main characters, but that also a love that they have to work hard to keep, don't miss the Rebels with a Cause duet by Scarlet Wilson.
Book Info:

August 2013 by Harlequin Medical Romance
That night…
When Dr. Evan Hunter had no resistance to Dr. Violet Connelly in her silver dress and spiked heels…
That night…
When her kiss made him forget he was her boss, and the consequences of his actions…
And the next day…
It was as if nothing had ever happened. Because nothing could happen between them. Ever.
Until they are sent to Africa on a vaccination campaign together, where the hot climate and the less than ideal sleeping arrangements make working together difficult—and forgetting that night impossible!