Laws of Attraction by Sarah Title is book three in the Librarians in Love series but you don't need to read the previous books first, in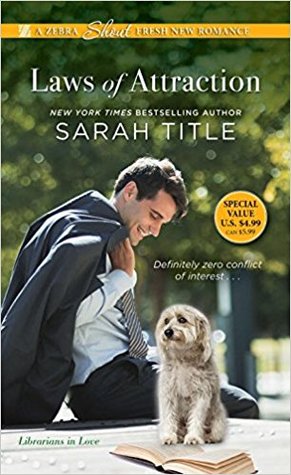 order to enjoy this one.
Becky Shrader has just been dumped by her boyfriend, when her friend Dakota drags her to a sports bar to get laid. See, Becky picks losers and is all about finding love and settling down but the guys she picks aren't worth her time. Dakota wants her to pick a man who is the complete opposite of who she is looking for and get naked with him, in order to give her a "reset." After that, she can move on. She is not allowed to fall in love with the reset guy…but, what if he's the one?
Genius attorney Foster Decan has returned home, only to join the law firm that is his family's rival and to watch over his sister. The sister got into some trouble and could use his guidance. On his first night back, he heads over to the bar to catch up with some old friends and runs into Becky. Becky, the woman who he ends up taking back to his place where they really hit it off. Only problem…Becky bolts in the morning and he can't stop thinking about her. Don't worry though, even though they didn't do much talking, he runs into her again at the law firm, where she's the legal librarian.
Foster wants to see Becky again, and Becky can't ignore him fast enough. But ignoring him won't work when his little sister does her community service where Becky volunteers at. These two bump into each other quite a bit and it's easy to see how attracted they are to each other. Can Foster convince Becky that he isn't the wrong guy for her?
I enjoyed Laws of Attraction, what I didn't like was Becky's family. They were stuck up and definitely not relatable. Foster was characterized as a genius and he didn't act like them. I felt sorry for Becky. Foster, though, had my total devotion. He was sexy, intelligent, and extremely nice. Perfect for our Becky. Overall, a cute read with entertaining characters and adorable rescue dogs!

Book Info:

Publication: October 31st 2017 | Zebra Shout | Librarians in Love #3
It's taken law librarian Becky Schrader a long time to stop comparing herself to her family of overachievers and hone in on what she really wants–a normal life, white picket fence and all, Mr. Dream Guy included. But before she gets ahead of herself, her girlfriends convince her she needs to let down her hair for once, meet a hot guy and let the moment take over . . .
After graduating from an Ivy League law school and practicing in New York for a few years, the plan for Foster Deacon was to return home to Denver and join the family firm, marry the right woman, shoulder his responsibilities. Except Foster's always been a bit of a rebel, and he's decided to suit up with his family's rival firm. What better way to celebrate than to spend a night with a gorgeous blonde who leaves before he could say, "Good morning . . ."
Becky feels she did the right thing, leaving her lover's bed and not her number. After all, she needs to focus on her job at Glassmeyer & Polak–until the new hire walks through the door . . . with a bad case of happily ever after.