In Leader of the Pack (The Dogfather #3) by Roxanne St. Claire, As the oldest Kilcannon sibling–and being a former Marine–Liam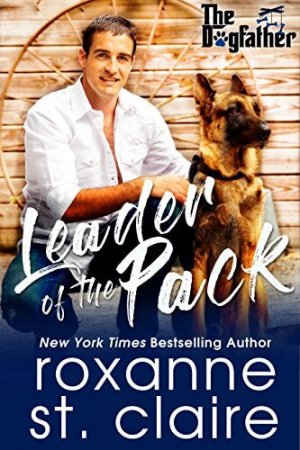 tends to have a quiet but commanding presence. That comes in handy while training dogs to be highly specialized in the security field. His current work in progress Jag, a German shepherd, is almost ready to go, although he hates to admit he's become quite attached to the pup. So when Andi Rivers, a woman he has been hung up on for a few years, runs into some trouble with a relative trying to take away her son Christian, Liam and Jag step in to protect them. As relieved as he feels to be doing something to help, it also reinforces how much he cares for Andi. And soon even Jag begins to bond with the mother and son duo. Liam doesn't want to get his heart broken again where Andi is concerned but is willing to take the risk if it will keep her and Christian safe. He hopes that maybe with some persistence and by proving he's there to stay, some day she'll change her mind and give them a chance at love as well.
'He felt her collapse a little in his arms and knew that no matter what had happened, he would never let her get hurt or be scared. He'd do whatever it took, sacrifice anything, to protect her.
No matter how much it hurt him in the end.'
Andi and her six-year-old son Christian have certainly dealt with a lot of ups and downs in their lives over the the past few years. The sudden reappearance and then loss of Jeff, Christian's father, unfortunately pushed her already timid son fully into the shy and introverted category. Now with the threat of having him taken away from her, Andi turns to the Kilcannon's, specifically Liam, for help. Their ill-fated brief courtship a few years ago was cut short with Jeff's return to town, but she knows what she and Liam had was the start of something quite wonderful. Since then, she's decided to focus only on Christian and wait until he leaves the nest before dating again. She doesn't want to bring another man into his life who would potentially leave. But Liam has always been there for her. And as much as Andi would like to say she doesn't feel anything for him, she would be lying. So when her son begins to bond and open up to Liam–and Jag–she's pretty sure it's too late. She's given her heart to them without meaning to.
'She glanced at him, seeing Liam differently with his family. Oh yes, he was still the attractive man who drew her in like a magnet, but here he was without a doubt the leader of his pack.'
Good Lord, the feels. Rocki pulled out ALL the stops with Leader of the Pack: A swoon-worthy hero, a determined heroine, a precious six-year-old boy, and a protective pupper who stole everyone's heart. Including mine!
Liam glanced at the T-shirt he often wore under bite suits, reading the words upside down.
Dogs (Because People Suck)
Christian giggled. "Mommy says suck isn't always a nice word."
"Shane gave this to me last Christmas," he said, throwing a look at his brother. "He's not always a nice guy."
Shane laughed. "That captures you in a shirt, big man."

NOTE: Don't forget that a portion of the first month sales from each book in the Dogfather series will be donated to the Alaqua Animal Refuge in Florida.
I'm sure you know by now that I'm a huge fan of Rocki's work. Yet I still go into each new book wondering how she'll manage to top the last romance. And I'm here to tell you that Liam and Andi's epic journey is my favorite of the series so far. (Although goodness knows that may change with her next book, LOL!) There was just something about how good and kind, protective and caring Liam was that swept me off my feet right along with Andi. I totally understood where he was coming from, being rather introverted myself when I'm in a group of people, so I loved his quiet strength. Andi's son Christian was also shy and I had such a great time watching him open up around Liam–and then with Jag, or Jaggerman, as Christian called his new BFF. The bond that formed between them (Liam, Christian, *and* Jag) was absolutely lovely to watch and was enough to make a reader girl's heart flutter. And it made complete sense to me that being around dogs was both Christian and Liam's comfort zone. Where they could be themselves, not needing to make small talk or worry about social awkwardness, and instead just relish the unconditional love of a dog.
Now as straightforward as Liam was, Andi was complex. At least in my opinion. She was a wonderful mother and always had Christian's best interest first and foremost in her mind. I know some readers may think she took it to extremes, saying she wouldn't get involved with a man until her son left home. But she didn't have the greatest of luck in terms of her romantic relationships working out. Understandable. So while I don't really think Andi used Christian as an excuse, per se, I think it helped to have him to concentrate on so she didn't have to deal with how lonely she felt. I did love seeing how Liam's persistence and patience oh-so slowly helped Andi realize that maybe she could have it all and that what she felt between them could be real and lasting. They truly did make a solid, loving couple who worked well together to keep Christian happy and safe while also solving the issues they faced.
Romances don't get much more heartwarming than this, folks. You'll definitely need a box of tissues at the ready, but don't be surprised to also find yourself laughing along with the Kilcannon family and their funny antics. I honestly can't recommend this highly enough.

Book Info:

Publication: Published July 21st 2017 | South Street Publishing | The Dogfather #3
The Dogfather is a brand new contemporary romance series from New York Times bestselling author Roxanne St. Claire celebrating what she loves most: hot guys, great dogs, big families…and true love. And a portion of the proceeds from every book in the series will be donated to the Alaqua Animal Refuge in the author's home state of Florida!
Leader of the Pack
Very few things ruffle K-9 trainer Liam Kilcannon. Stoic and steady, he has the patience and skill to transform a harmless puppy into a highly protective "schutzhund," and the quiet strength to lead his five younger siblings through the storms of life. A former Marine who doesn't waste words or squander emotions, Liam is also a man who very much wanted to spend his life with one special woman by his side. He found her… and lost her. And Liam won't ever let himself slide down the Andi Rivers Slippery Slope to Misery again. But when his father tells him Andi's house has been broken into, he doesn't hesitate to offer her his beloved protection dog, a decision that will put them in close and constant contact.
Architect and single mom Andi Rivers knows nothing in life is certain, having first-hand experience with unexpected changes and tragedies that upended her world. Determined to protect her deeply shy little boy from another heartache, she's vowed to stay single and unattached no matter how long and lonely her nights might be. Hesitant to take Liam's dog at first, she soon changes her mind when an estranged relative launches a campaign to take custody of little Christian. A dog won't be enough…Andi needs a family to protect her son. When the Kilcannon family moves into action, the solution they offer is drastic but perfect. Liam and Jag are there to protect Andi's home and child…but what will protect their hearts from the risk of falling in love – and failing – one last time?
The Dogfather Series
Daniel Kilcannon is known as "The Dogfather" for a reason. It's not just his renowned skills as a veterinarian, his tremendous love of dogs, or the fact that he has turned his homestead in the foothills of the Blue Ridge Mountains into a world class dog training and rescue facility. Just ask his six grown children who run Waterford Farm for him, and they'll tell you that their father's nickname is due to his uncanny ability to pull a few strings to get what he wants. And what he wants is for his four sons and two daughters to find the kind of life-changing love he had with his dearly departed wife, Annie. This old dog has a few new tricks…and he'll use them to see his pack all settled into their happily ever afters!
Watch for the whole series coming in 2017 and 2018!
SIT…STAY…BEG (Book 1)
NEW LEASH ON LIFE (Book 2)
LEADER OF THE PACK (Book 3)
BAD TO THE BONE (Book 4)
RUFF AROUND THE EDGES (Book 5)
DOUBLE DOG DARE (Book 6)
OLD DOG NEW TRICKS (Book 7)
About the Author
Roxanne St. Claire is a New York Times and USA Today bestselling author of fifty romance and suspense novels. In addition to being a nine-time nominee and one-time winner of the prestigious RITA™ Award for the best in romance writing, Roxanne's novels have also won the National Reader's Choice Award for best romantic suspense four times, as well as many others industry awards. She lives in Florida with her husband, and still attempts to run the lives of her teenage daughter and 20-something son. She loves dogs, books, chocolate, and wine, but not always in that order.