Legally Charming by Lauren Smith is the first contemporary romance by Lauren Smith that I have read, but I have enjoyed quite a few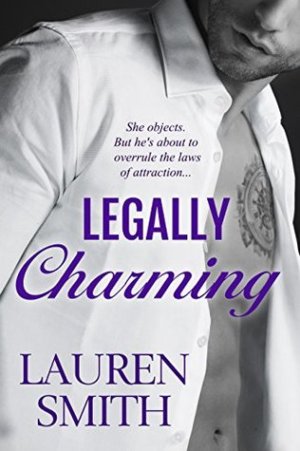 of her historical romances. Legally Charming is cute, sweet and entertaining, but the story is not particularly memorable.
Felicity Hart is focused on completing her masters in art when she inadvertently falls asleep in Jared Redmond's empty bedroom after a party at his and his brother's apartment. Jared is out of town at the time but returns home that night to find the sleeping Felicity in his bed, and he's attracted to the younger, innocent graduate student. He's works long hours as a lawyer, and – like Felicity – he is not looking for a relationship.
After the sleeping mishap, Jared immediately begins to seek Felicity out wanting to spend time with her. He's surprised to discover that he wants to get to know her and take her on a date. Felicity resists thinking she could never handle dating someone like Jared, but he's pretty hard to resist. They begin dating and try to keep things simple, but their relationship soon gets quite complicated for both of them.
Jared is described as a playboy, but he shows a sweet and thoughtful side with Felicity that is endearing. She is likable, but I can't figure out why it is that hard to date and go to school. I wanted her to get her act together, take a chance on Jared and stop agonizing over it. Both she and Jared act in ways that are naiver than their age dictates, and my interest waned when the two of them created problems that could have been avoidable. Legally Charming is cute but never fully grabbed my attention.
Book Info:

Publication: 3/13/17 | Self Published – Lauren Smith | Ever After #1
THE RIGHT DRESS CAN CATCH THE EYE OF PRINCE CHARMING…
Felicity Hart has one goal: Completing her masters in art. Falling in love isn't part of the plan. She reluctantly agrees to attend a Halloween party with her best friend. After sneaking away from the party and falling asleep in an unoccupied room, she wakes to the sexiest pair of eyes she's ever seen. Eyes that belong to the one man who could turn her well organized world upside down. When he flashes that wicked, panty-melting smile at her the vow to not fall in love seems impossible…
EVERY PRINCE IS LOOKING FOR HIS SLEEPING BEAUTY TO KISS…
Jared Redmond used to be the ultimate bad boy. But now his legal career is taking off and the partners of his firm are trusting him with high-dollar real estate transactions. Jared's king-size bed is empty. But when he arrives home on Halloween to find a princess sleeping in his bed – his all work and no play attitude goes out the window. There's nothing he wants more than to explore the hidden desires of this mysterious beauty and show her just how much of a bad boy he really is by fulfilling her every fantasy.
WHEN MIDNIGHT STRIKES AND COACHES TURN TO PUMPKINS…
Underneath the glitter of this fairy tale romance, Felicity and Jared might have found true love. But the mounting pressure of their real lives takes hold again and Jared and Felicity are pulled further and further apart. Can they find their fairy tale ending or will they be left with the dying embers of what could have been?