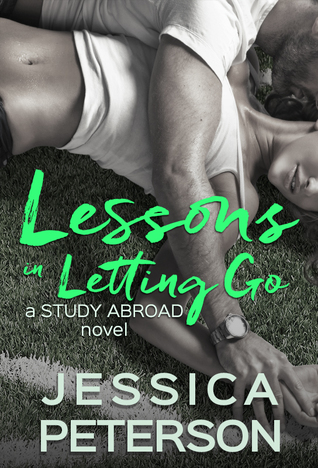 Lessons in Letting Go by Jessica Peterson: Rhys was an up-and-coming football star until he got injured and he has been struggling with every part of his game ever since. Rhys is sexy, determined, loyal, and feels like he needs to be the man and football player that his dad wasn't. He grew up not having much and he's determined to provide for all of his family. He's desperate to find a way to turn his game around before he loses his contract with the Madrid club and his sponsors.
Laura is looking forward to a fresh start with her semester abroad in Spain. She's sick of giving everything of herself while putting herself last. With the support of her best friend, she makes a bucket list of what she wants to do over the semester to begin putting herself first.
Laura is incredibly surprised to run into none other than Rhys Maddox. He's the star in all of her fantasies and in a rare moment of courage, she goes after what she wants despite his horrible pick-up lines. When his game turns around after their one night together, Rhys suddenly needs Laura to be around as his good luck charm…all the time.
"You know the 'hey girl' still isn't working," I say.
He shrugs, a grin tugging at the edges of his lips. "Law of averages. The more I try, the better chance I have. Or something like that."
I turn around to grab my beer. "I still can't believe you actually came. I know a trip to a place like this isn't on your schedule today. Or any day, for that matter."
Rhys lives an incredibly regimented life where he's lives to make his sponsors happy by showing up at parties and events, driving a flashy car, and lives on social media. Laura gets sucked into the fast-paced world that Rhys inhabits. The new experiences are fun and exciting, but her bucket list is at a standstill.
When Laura finally opens up to Rhys about her growing unhappiness and willingness to walk away, he's shocked. Rhys is determined to hold on to Laura since he's back to playing like he should be. Rhys and Laura have great chemistry and their relationship is quite the rollercoaster as they have to navigate expectations, the press, and trying to find happiness.
'Yeah, about that. You know I was more of a mathlete growing up, right? Like. The opposite of a world-class athlete like you."
Rhys smirks. "You're still scarred from that one week at soccer camp, aren't you?"
"Hell yes I am," I reply. "I was eight. Soccer was the cool sport that year, so I begged my mom to let me go. I cried through the whole thing."
Lessons in Letting Go is a fun, sexy, and angst-filled rollercoaster. Jessica Peterson combined great friendships, banter, and sizzling chemistry. Ms. Peterson did a good job in developing Rhys and Laura as individuals and as a couple. Lessons in Letting Go can be read as a standalone book. Fans of Annie Kelly and Renita Pizzitola will enjoy Lessons in Letting Go.

Book Info:

 Expected publication: December 12th 2016 | Peterson Paperbacks | Study Abroad #3
"Ten minutes ago, I was just an American student studying abroad in Spain. But now? Now I'm a professional soccer player's muse. His good luck charm…"
Soccer star Rhys Maddox's recovery from an injury isn't going well—until one night with a beautiful American and a few terrible pick-up lines changes everything. With Laura at his side, he plays smarter, runs faster, and fights harder than he ever has on the pitch. She's just the good luck charm he needs to turn his flailing career around.
Laura Bennet begins her semester in Madrid with plans to ditch bad habits and worse boyfriends. But when she unexpectedly gets caught up in Rhys's A-list life, her plans are put on hold. Who wouldn't skip class to fly on a private jet with a studly Welsh footballer? It's a no brainer, or so she thinks. Turns out Rhys's glamorous lifestyle hides an obsession with appearances—an obsession that makes her totally miserable. Determined to take back her happiness, Laura decides to dump Rhys and tackle a "Spain Bucket List" on her own.
But Rhys isn't letting his good luck charm go without a fight. He's spent his entire life trying to earn his way into the big leagues, and he'll do anything to win—even risk his carefully crafted image to help Laura with her bucket list. Will he be able to let go of his ego? Or will he and Laura ultimately let go of each other?