Let Me Be the One by Christa Maurice: Taking place over several years, Brian has been in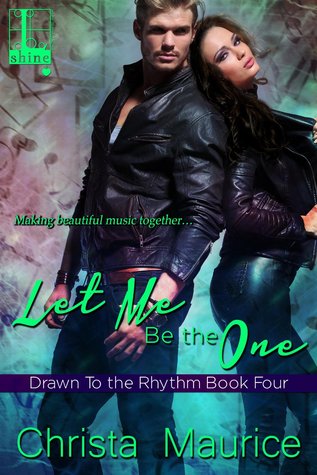 love with Suzi the entire time. But because she's been with another man the entire time, he takes a back seat in her life, being the shoulder she leans on.
But as Suzi and Logan finally begin falling apart due to her distrust in his behavior, Brian may finally have a chance.
And Suzi has been holding a secret crush on Brian, and falling in love with his kids, for years. So when she finally retreats, she disappears with Brian. But, when Logan finds her will she break Brian's heart or fall into new love?
"Race you to the cabin." Then she printed away.
"I thought you were the mature one," he yelled after her.
Her laughter floated back to him, and in the moonlight he saw her strip off her shirt. By the time he got to the stairs, she was in the cabin, and her shirt hung from the railing.
Too many things didn't go right in this story. Being in a relationship with another man for most of the story. Each chapter being a time change. Logan's creepy and possessive attitude, and Suzi's own uncomfortable dependence on Logan. Plus, I don't want a hero holding a crush and being the shoulder she cries on for several years. It just isn't attractive. Also, why does everyone fall madly and deeply for Suzi?
Because of the time hop, I barely got to know any of the characters, and I ended up just not caring who she ended up with, and not particularly wanting a happy ending for any of them, although Brian is a super nice guy.
What I can say is I kept reading, I liked the side characters and the community created, and I was curious how the story could possibly end. It didn't feel much like a rocker romance, but if you're interested in the sweet guy, you might want to give Let Me Be the One a try.
Book Info:

Publication: December 8, 2015 | Lyrical Shine | Drawn to the Rhythm #4
A little matchmaking mischief…
She's the girl of his dreams, but she belongs to another man. Still, that doesn't stop rock star Brian Ellis from standing by Suzi's side when she needs him most. Or offering her a strong shoulder to lean on when her relationship crashes and burns. But will Brian get burned by the beautiful writer when Suzi goes back to the man she believes she loves?
Suzi has always had a crush on Brian, which doesn't mean she's ready to risk everything for the sake of a fling. Yet the more time she spends with him, helping the sexy single dad with his kids, she knows there's more between them than simmering sensual tension. An invitation to join him in the sweet mountain town of Potterville, West Virginia, may be too tempting to resist. But how can Suzi give her heart when she's already promised herself to another?