In Let Me (O'Brien Family #2) by Cecy Robson, a traumatic experience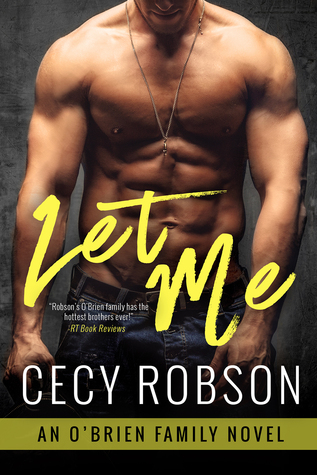 as a kid torments Finn O'Brien. So, as an MMA fighter, he contests the sport for one reason and one reason only — to help keep the demons of his past at bay. But when he snaps and hurts someone for taunting him, Finn is forced into speaking with a psychologist. However, the therapist isn't the one that can help. Instead, spending time with Sol Marieles is what works to keep him from losing control again.
"It's a bad time for me, Finn," I confess, but I don't tell him why. "And if you're here, it's probably a bad time for you, too."
"But maybe we can make it a good time for both of us," he says, losing his smile in a way that breaks my heart.
Finn O'Brien is a distraction, and a distraction is not what Sol Marieles needs right now. Not when working to achieve her Masters degree in Psychology, and caring for her ill mother already take up enough of her time. But Finn doesn't give up when he wants something, and Sol soon finds herself yielding to the gorgeous man's charms.
What a very entertaining and highly emotional tale Ms. Robson has penned, encompassing a heroine with no time for love but succumbs to the wonderful emotion and a hero so emotionally scarred that he needs someone to help bring him back from the edge of darkness he's riding. I really liked how this book started with Finn fighting and then getting himself into the trouble that demands him to see a therapist. However, it was the moment that Finn and Sol come face-to-face for the first time that made this book fast-paced for me, as I wanted to know whether they could find comfort in each other and overcome their pasts to have a future together.
"If I'm an old maid, what does that make you?"
"Sadly a hot stud too many women want to drag to bed." He adjusts his position, placing his ankle over his knee. "You should feel sorry for me."
"Oh, I do feel sorry for you." I tap his arm. "There, there, you poor sexy and studly man."
"So now I'm sexy?" he asks. "Not just cute?"
I really enjoyed both the main characters as well as the secondary ones. The playful banter between Finn and Sol had me smiling off and on throughout. Yet, it was the intense dialogue due to the main characters back stories such as the situation with Sol's mother and what happened to Finn years ago that captivated me. The hero is tough, confident, and tenacious in his pursuit of the heroine. I felt sorry for Finn, and cried when I finally learned what happened in his past that made him the wonderful character he is. Mixed martial arts saved him from utter despair, and without it there's no telling where he might have ended up, if he didn't engage in the sport.
While Sol, she's strong, brave, and determined to help her mother. It was hard not to feel sorry for her because no matter how hard she tried, there was no way her mother was ever going to get better, even if Sol did think in the past that she was helping her mother to recover. She's also really good for Finn. He needed someone besides his family that he could rely on; that he could trust with his horrible past. Maybe because the heroine is working towards her Masters in psychology it makes her both a good listener and someone that can help get through to him, especially in the moment when something happens to Sol's mother that left scares him.
Neither Sol or Finn are looking for a relationship. Yet, it's the best thing to happen to them. Their chemistry is so strong, and eventually spills over onto the pages in several hot, fan-your-face sex scenes. Sol finds it hard to be with Finn, because she believes he doesn't need any more grief in his life than he's suffered already, and that's exactly what the situation with her mother will bring him, if he ever learns the truth about her.
In the end, Ms. Robson delivered a well-written tale, of a close-knit family that me – as a reader – fell in love with, as they want Finn to overcome the hurts of his past. They really help Finn by supporting him when he's competing, and keeping him company at other times. The ending wrapped this story up perfectly with what Finn revealed to the media and then Sol's reaction towards the end at Finn's MMA bout. Her enthusiasm for Finn to win bought a huge grin to my face. I would recommend Let Me by Cecy Robson, if you enjoy the friends to lovers trope or a couple that need each other to heal from the hurts of their pasts.
Book Info:

Publication: April 19th, 2016 | Sef-Published | O'Brien Family #2
Once he was broken beyond repair. Now this MMA contender is fighting to be a better man–for her. RT Book Reviews proclaims that the O'Brien Family series from award-winning author Cecy Robson "has the hottest brothers ever!" And in Let Me, it is Finn's turn to discover how love can heal the deepest wounds.
A mixed martial arts star on the rise, Finn O'Brien dismantles his opponents with brutal precision. And yet beneath his fierce persona, Finn is raw from a trauma he's buried for years . . . until the day his deep-rooted rage erupts and lands him in court-mandated therapy. Finn's not one to bare his soul, but if talking it out means meeting beautiful women like Sol Marieles, he'll give it a shot.
Sol is working toward her masters degree in psychology, and already she feels like she's in over her head. With an important internship on the line and a scary family situation demanding her attention, the last thing Sol needs is Finn around to distract her. The man is ripped and seriously sexy yet it's his troubled side that warns her to keep her distance. But their attraction is intense, and he clearly has the heat to see how far and fast their passion takes them.
Alone, Finn and Sol have been fighting to find happiness in their lives. Together, there's no stopping them as they face their greatest challenges–not in the ring, but in their hearts.