In Liar's Key (Sharpe & Donovan #6) by Carla Neggers, FBI art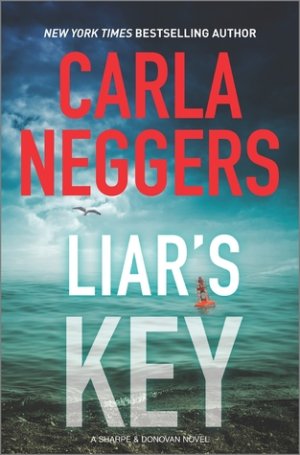 crimes specialist Emma Sharpe has her upcoming wedding on her mind when former agent Gordon Wheelock pulls her into his hunt for the truth. The recent death of a well-known archaeologist and the rumors of possible stolen ancient mosaics suggest there could be foul play, with known art thief Oliver York's name being thrown around in connection. Emma begins to unravel the trail Gordy has taken in his unofficial investigation and realizes that the retiree may be hiding something important from her. And it may make things more dangerous for them all, including her grandfather, brother and others in her hometown in Maine.
"You've gotten cheekier since you started wearing a badge, or whatever you call it. Or is it the influence of that fiance of yours?"
"It's knowing you," she said lightly.
"I love having my grandkids blame their smart mouths on me."
FBI agent Colin Donovan should be taking time off after his last intense case undercover and should also get started on honeymoon plans for his bride-to-be Emma, but he's soon swept up with the mosaic investigation. The case takes him from Ireland to Boston and then to his home in Maine, where several possible suspects have congregated for an open house at the Sharpe Fine Art Recovery offices. Colin and Emma know they might be too close to some of those involved to be considered unbiased, so they enlist the help of other agents and local police to crack the case and keep the townspeople and visitors from harm.
'…He'd first met Finian Bracken and they'd become friends over a bottle of Bracken 15. By September, he'd met Emma. By November, Oliver York. Nothing about his life was ever simple with the Sharpes, or with Oliver York.'
Liar's Key was a romantic suspense that centered around the death of an archaeologist and the rumor of missing ancient mosaics. The search for answers by FBI agents Sharpe and Donovan was just the beginning of this tangled and complicated tale.
I'll admit that this is my first foray into Carla Neggers' Sharpe & Donovan series so there was quite a bit of catching up to do while reading this–although I am a fan of her Swift River Valley series. There were a lot of characters to get to know, including their personalities, backgrounds and how they all have interacted with each other in previous books. So I think fans of the series will have a much easier time reading this than I did. And of course I would caution readers new to the series to perhaps check out earlier releases first before picking this up.
Set in three interesting locations: Boston, Ireland, and Maine, I loved how Neggers pulled bits of the culture from each area into the story and into the characters themselves. Like I said, there were a lot of people to keep track of, but they did all have their place in the storyline and made a big difference in the outcome. I liked that it wasn't truly clear until toward the very end who the culprit was behind all the rumors and tragic events. I had my suspicions but it was nice to have to piece together the clues along the way.
Emma and Colin were of course the main characters overall and I came to really enjoy their solid relationship. They were both very strong, steady individuals and they supported each other quite well as a result. Where I'm new to their story, I was interested to find out their background and how Emma started off as almost becoming a nun and that Colin was a lobsterman (like my brother in real life!) and in the Marine Patrol before joining the FBI. It was great to see them in their home element in Maine but still acting as agents during their complex investigation.
Theft, murder and lies caused havoc for agents Sharpe and Donovan and left them with a town full of suspects to weed through in this newest offering by Carla Neggers. I think fans will especially like the ending as the couples' impending wedding day finally arrived.
Book Info:

Publication: Expected publication: August 30th 2016 | MIRA | Sharpe & Donovan #6
An FBI legend, a mysterious antiquities specialist and a brazen art thief draw top FBI agents Emma Sharpe and Colin Donovan into a complex web of blackmail, greed and murder in the eagerly awaited new novel in the highly acclaimed Sharpe & Donovan series
Emma Sharpe is suspicious when retired Special Agent Gordon Wheelock, a legend in FBI art crimes, drops by her Boston office for a visit. Gordy says he's heard rumors about stolen ancient mosaics. Emma, an art crimes specialist herself, won't discuss the rumors. Especially since they involve Oliver York, an unrepentant English art thief. Gordy and Emma's grandfather, a renowned private art detective, chased Oliver for a decade. Gordy knows Wendell Sharpe didn't give him everything he had on the thief. Even now, Oliver will never be prosecuted.
When a shocking death occurs, Emma is drawn into the investigation. The evidence points to a deadly conspiracy between Wendell and Oliver, and Emma's fiancé, deep cover agent Colin Donovan, knows he can't stay out of this one. He also knows there will be questions about Emma's role and where her loyalties lie.
From Boston to Maine to Ireland, Emma and Colin track a dangerous killer as the lives of their family and friends are at stake. With the help of their friend, Irish priest Finian Bracken, and Emma's brother, Lucas, the Sharpes and Donovans must band together to stop a killer.
No one creates exciting, action-packed romantic suspense and international intrigue like New York Times bestselling author Carla Neggers.