Lone Star Baby Scandal by Lauren Canan: Temptation is a rough thing to deal with, especially when it comes in the form of your boss,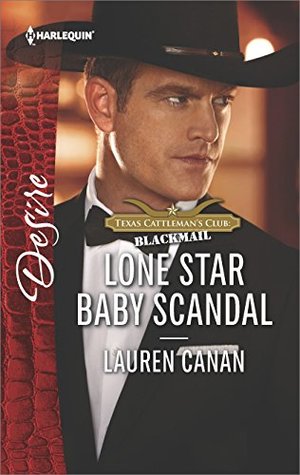 who you see at least five days a week in all conditions.
Sophie Prescott had learned to deal with the temptation that was her boss. He was not only that, but her best friend. Yet one magical night when he becomes more is something else. Can they move forward from this? Can they still work together? Was it a one-night stand? What does the future hold? So many questions and not many answers.
Clay Everett knew it was bad form to sleep with your secretary. So what if he had wanted her from the first moment he saw her. So what if she had somehow become his best friend. She knew the score and he just couldn't wait any more. The problem is that somewhere down the line this stopped being a one-night stand and started to mean more, at least to him.
These two friends thought they knew the score or at least the game, but when the rules seem to change who knows what the final results will be.
Transported back to Royal and to the blackmail games that Maverick is playing Ms. Canan gives her readers yet another story of love conquering. This novel can be read as a stand-alone though it is a part of a bigger series. This is a good combination of tropes – friends to lovers, employer/employee, secret babies and hidden secrets. There are enough plot twists to make it anything but predictable and will keep you turning the pages long after the sun goes down.

Book Info:

Publication: Published July 1st 2017 | Harlequin Desire | Texas Cattleman's Club: Blackmail #7
One night changes everything…
It's bad enough that straitlaced Sophie Prescott fell for her boss Clay Everett's charms the night of Royal's masked ball—now she's pregnant with his baby! Too bad the former rodeo star turned billionaire entrepreneur's emotional defenses are impenetrable and Sophie doesn't stand a chance of breaking through. So where does that leave her? And with a blackmailer hounding the town's A-list, is their secret the next to be revealed? Or is an even bigger surprise in store—that maybe, just maybe, Sophie has discovered the chink in Clay's armor…?