In Long Walk Home by Lilian Darcy, Gemma Clayton had a secret, a really big secret that she had been carrying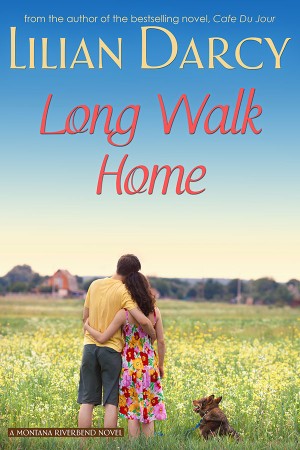 around with her for half of her lifetime. In spite of that she managed to raise a wonderful daughter, become a teacher and stay incredibly well respected in Marietta. She never really felt anything was missing, that is until she started talking with her backyard neighbor.
Dylan Saddler had a bunch of baggage in his life along with an ex wife he had two children, from different mothers and no real stability until a few months ago. He was getting his life back on track though with an inherited house he was now going to be taking up residence in Marietta and starting up his renovation company. What he didn't realize was that this summer he was going to have his son, his daughter and working out his feelings for his backyard neighbor.
Both Dylan and Gemma have a lot of history and not a lot of it good, but they both know that they are trying to make the best out of their situations. So when the past comes rearing up and hitting them in the face just as their future seems to be taking off they know that this will be the time they either hit the ground running or fall apart permanently.
Ms. Darcy takes us back to Marietta and finally gives us a little bit of closure as to what happened that fateful night in 1996 when Neve passed away. This is of course a part of a series, it can be read as a stand-alone but I wouldn't recommend it. As always Ms. Darcy gives us such a full picture of all of the players in the story it is like we are living in Marietta talking with Ms. Bingley. For anyone who has read the others in the series this is something you probably never saw coming but was such a huge sigh of relief to finally have some closure.
Long Walk Home by Lillian Darcy is a great short read where ends are tied up and the good girl finally ends with the right man. "He may not be perfect, but he is perfect for her."
Book Info:

Published October 2014 by Tule
Everyone has baggage by the time they're into their thirties.
When single mom and Marietta High School teacher Gemma Clayton acquires a strong, family-oriented and very good-looking new neighbor over her back fence, she's not put off by his complicated past as the attraction flares between them. Her own past is a very different matter, however.
Nobody knows what she went through on the night of the 1996 Marietta High School senior prom, between running after Judd and Garth Newell's car as it left River Bend Park and limping into her friend Neve Shepherd's street two hours later.
But Gemma's secrets have been rusted up inside her for so long that not even a gorgeous man like Dylan Saddler can help her to break them free.