Looking Inside by Beth Kery: After losing her sister, Eleanor is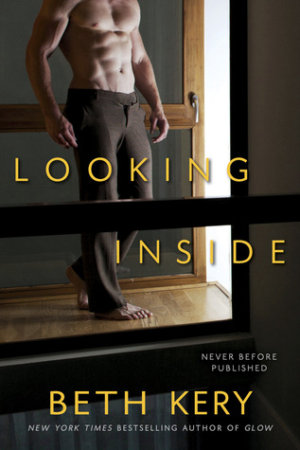 determined to take her sister's advice and take more risks. Even though Eleanor is smart and beautiful, she's used to seeing herself as the quiet, shy, librarian living in her sister's larger-than-life shadow. She's been enjoying trying out some of her sister's clothes and she's hoping to finally step out of the shadows to pursue Trey.
Trey is a sexy, confident entrepreneur and playboy. He's been single-minded about achieving his professional goals and now he's re-evaluating his goals when it comes to relationships. After a few bad relationships, he's decided to take a break from dating and focus on self-improvement.
Eleanor has been captivated by Trey for some time now. They live in neighboring condos and she just happens to have the perfect view into his bedroom. What she's seen has fueled her fantasies and she has a plan to seduce the unknowing Trey. Her bold proposition is just the beginning of the fun and games for them.
"Why should I bother? You're a heathen."
"At least I don't deny it," he said, nibbling at her succulent lower lip.
"At least?" she mumbled.
"Yeah. You got all defensive when I called you a witch," he reminded her.
Trey is simultaneously intrigued and confused by Eleanor. She's seemingly a sexy siren and daring temptress while also being private, reluctant, shy, and closed-off. They have blazing-hot chemistry, and both are left unsure and rattled by the experience. They agree to a fling, but neither are happy with the seeming limits that places on their growing feelings.
"I was then. Less so every moment I spend with you," she whispered before she went on her tiptoes and pressed her lips to his.
"You don't still think I'm a heathen then?" he asked quietly against her mouth a moment later.
"Maybe. But a heathen with potential," she conceded.
Looking Inside is a sensual journey of self-discovery after loss. Beth Kery provides complicated characters with unexpected connections. Ms. Kery created a good balance of heat, humor, banter, romance, and conflict as they try to figure out themselves and their relationship. Fans of Megan Hart and Lorelei James will enjoy Looking Inside.
Book Info:

Publication: November 1st 2016 | Berkley |
The New York Times bestselling author who brought you Glow, Glimmer, and The Affair is back with a new novel that will have you leaving the curtains open.
Are you just going to stand there and watch?
Eleanor Briggs just can't help herself. Every night, the sight of the man in the high-rise across the street is driving her wild. She longs to feel his touch up close and personal. To win him over, she'll need to shake off her wallflower sensibilities and become the seductress she never imagined she could be. The only trouble will be finding the perfect way to meet him…
Or are you going to join in?
Sex is easy for millionaire entrepreneur Trey Riordan. Finding something of substance, however, seems impossible. That is until a simple night of reading at a local coffee shop becomes something far steamier when a beautiful brunette comes by and leaves a note telling him to look out his bedroom window at midnight. But when the time comes, neither of them will be truly ready for what follows…