Going into Losing It by Cora Carmack I originally thought "How can a book be solely based around a college student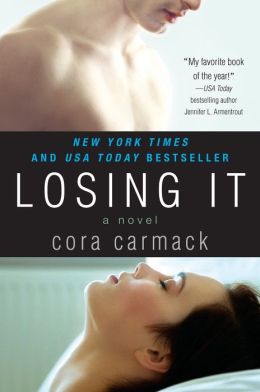 wanting to loose her virginity?" Let me just tell you, it is sooo much more!
Losing It is about Bliss a soon to be college graduate, who wishes to loose her Virginity. But it's also a story of a young woman finding herself and finding a man that is absolutely perfect for her in every way possible. I never expected to LOVE "Losing It" so much, but damn I'm glad I gave this a book a chance. It's truly awesome and the perfect example of a New Adult book with heart and soul!
Don't get me wrong by my rating. I freaking loved "Losing It" by Cora Carmack. My only issue with this book, which is why I knocked it down a half star, that is because for me the first half of the book was just okay. If the whole book was as beautiful and amazing as the last half, then "Losing It" would have been all together AMAZING book, and would have made it to the very top of my favorites list for 2013.
Even with its slight problems I still really, really, REALLY, enjoyed "Losing It"! I mean the story was written and told beautifully. And let not kid our selves, I LOVE men with accents. Which of course made Garrick an instant fictional boyfriend. And I can't wait to get my hands on book two, "Faking It". Which features one of Bliss's best friends, Cade!
Book Info

Publisher: William Morrow Paperbacks | Release date: February 26, 2013 | Series: Losing It
Virginity.
Bliss Edwards is about to graduate from college and still has hers. Sick of being the only virgin among her friends, she decides the best way to deal with the problem is to lose it as quickly and simply as possible—a one-night stand. But her plan turns out to be anything but simple when she freaks out and leaves a gorgeous guy alone and naked in her bed with an excuse that no one with half a brain would ever believe.
And as if that weren't embarrassing enough, when she arrives for her first class of her last college semester, she recognizes her new theater professor.
She'd left him naked in her bed about eight hours earlier. . . .