In Lost and Found Sisters (Wildstone #1) by Jill Shalvis, Quinn Weller would give anything to have her sister Beth back again and to be able to talk to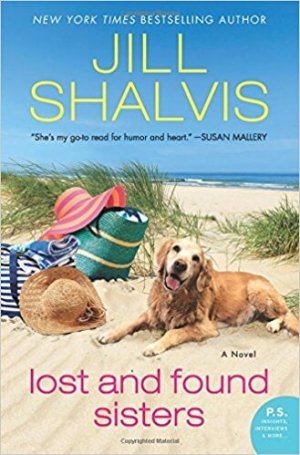 her one more time. But a tragic car accident took Beth's life too early, leaving Quinn feeling out of sorts and emotionally numb. Normally her job as a chef at a trendy L.A. restaurant and her parents could cheer her up. But not so much these days. So when a lawyer from a small town a couple of hours up the coast tells her she needs to visit Wildstone in order to get an inheritance she's never heard of, it throws Quinn's life into even further turmoil.
She bit her lower lip. "You should probably know something about me."
"I'm all ears."
"I'm not doing the whole guy thing right now."
"How about pizza?" he asked, cocking his head with a smile. "Are you doing the pizza thing?"
Dammit. The way to her heart was pizza. And maybe also that incredible smile he was sporting.
What Quinn learns upon her arrival in Wildstone shakes her to her very foundation. And while she's smitten with the small coastal town and the offbeat locals, it's a sullen teenage girl named Tilly and a gorgeous local guy named Mick that have her pondering her future, wondering if she was drawn to this town for a reason. Quinn isn't sure if she's ready to leave behind her home, her family, and the guy she thought she'd have a future with one day–even though they've gone their separate ways over the past two years. But Wildstone is offering her a chance to start over again and to truly matter and make a difference in some very special people's lives.
"You're not taking advantage. If Wildstone and everything in it is my storm cloud, you're the silver lining. Please, Mick. Stay?"
He let out a short breath and stepped into her, banding his arms around her. "I'm not one to argue with a beautiful woman."
Lost and Found Sisters might have been Jill Shalvis's first foray into women's fiction, but you would never know it. Utterly charming, with a good dose of humor and heart, I adored this masterfully crafted first book in her Widlstone series.
He laughed softly. "Let yourself go, Quinn. Let it happen. It's okay to love this place and everyone in it."
And you, she wondered. Is it okay to let myself love you as well?
I think at this point it's safe to say that no matter the genre I'll read anything by Jill Shalvis. There's just something about her writing voice that I get. The fact that she uses lots of funny dialogue and creates swoon-worthy heroes certainly doesn't hurt either. But as much as I love her contemporary romances where the guys have a tendency to dominate the story, I had a great time with Quinn's journey. This was mainly told from her perspective, with some chapters or passages from our hero Mick's POV, but to me, the female characters (and there were several) were the ones who led the way and made the difference in each other's lives.
Quinn was such a cool woman. She was still grieving two years after her beloved sister Beth passed away but she was trying her hardest to move forward. Then life threw a few more curve balls her way and we got to see just how tough Quinn truly was. I loved her sarcastic, slightly cynical wit and the fact that she was so loyal and compassionate. She was a woman who took things to heart and tried to put others first. I will admit that I did want to shake Quinn by the shoulders–gently–a couple of times when she was dragging her feet about her feelings for Mick, but I understood her reluctance to give her heart away again.
But if Quinn had to take a chance on anyone, Mick was definitely the guy. Whew…he was such a stable presence in her life, was hot as sin at the same time, and was equally as compassionate as Quinn was. I really loved Mick for her and thought he did a great job helping her sort her feelings. He also had a good relationship with Tilly, a teenager who became important in Quinn's life, and created a wonderful rapport with her. Oh, and I have to mention Mick's senior doggie Coop who just made my day. Shalvis obviously knows animals well (if you've seen her Facebook posts, you're familiar with her own menagerie) and she did a fantastic job of adding in bits of humor with Coop's aging canine issues and with a certain slightly off-balance cat who suddenly appeared in Quinn's life. So comical!
I was sad to say goodbye for now to the characters we met in Lost and Found Sisters. And so of course now I can't wait to see what this entertaining, quirky, and just plain likable cast will be up to in the next installment.

Book Info:

Publication: Published June 20th 2017 | by William Morrow Paperbacks | Wildstone #1
From New York Times bestselling author Jill Shalvis comes her first women's fiction novel—an unforgettable story of friendship, love, family, and sisterhood—perfect for fans of Colleen Hoover, Susan Mallery, and Kristan Higgins.
They say life can change in an instant…
After losing her sister in a devastating car accident, chef Quinn Weller is finally getting her life back on track. She appears to have it all: a loving family, a dream job in one of L.A.'s hottest eateries, and a gorgeous boyfriend dying to slip an engagement ring on her finger. So why does she feel so empty, like she's looking for a missing piece she can't find?
The answer comes when a lawyer tracks down Quinn and reveals a bombshell secret and a mysterious inheritance that only she can claim. This shocking revelation washes over Quinn like a tidal wave. Her whole life has been a lie.
On impulse, Quinn gives up her job, home, and boyfriend. She heads up the coast to the small hometown of Wildstone, California, which is just a few hours north, but feels worlds apart from Los Angeles. Though she doesn't quite fit in right away, she can't help but be drawn to the town's simple pleasures…and the handsome, dark-haired stranger who offers friendship with no questions asked.
As Quinn settles into Wildstone, she discovers there's another surprise in store for her. The inheritance isn't a house or money, but rather something earthshattering, something that will make her question everything she thought she knew about herself, about her family. Now with a world of possibilities opening up to Quinn, she must decide if this new life is the one she was always meant to have—and the one that could finally give her the fulfillment she's searched so long for.