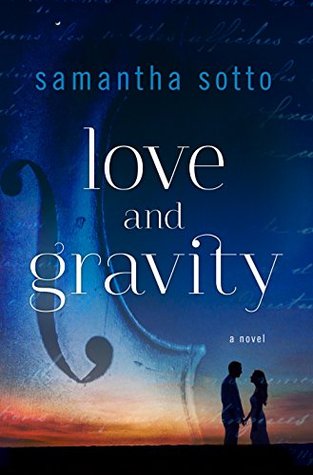 In Love and Gravity by Samantha Sotto, The day of Andrea Louviere's seventh birthday will forever hold a special place in her heart. It was the day that she first saw the boy behind her wall. At first, she tried to convince her family and new best friend Nate that the boy who appears through a blinding white crack in her wall is real. But Andrea learns to keep the truth to herself as he appears again and again over the years while she plays a haunting melody on her cello. And when she learns his identity, that he is Isaac Newton, she must tread carefully so as not to alter the course of history in some way.
'The boy's greatest magic trick was not pulling things out from thin air. It was finding her when she needed a friend the most.'
Andrea becomes torn between the affection and pull she feels for Isaac whenever he appears, and knowing she also has strong feelings for Nate. He has always been there for her and is someone she can be with in the present time but she can't seem to let go of what might be if she could find a way to get through the crack in her wall to Isaac. But Andrea should have been careful what she wished for. Seeing Isaac firsthand and finally hearing the voice of the person she has known almost all of her life also brings decisions and consequences to light that will undoubtedly change them both considerably.
…'The time has come at last to tell you how everything began, how I have come to love you above all else, and how you will come to love me.'
Love and Gravity was a work of fiction that combined romance and time travel, bending space and time to bring two people together against all odds. Creative and heartfelt, this novel captured my imagination and my heart with ease.
'Isaac and Andrea's connection was a natural law, greater than any he had ever discovered: unbreakable, timeless, and absolute. It had bound their hearts just as gravity married the earth to the moon.'
Author Samantha Sotto certainly gave us readers an original, almost fanciful story that was filled to the brim with real and very raw emotions. And I think that's what grounded Andrea and Isaac's fantastical tale was that Sotto didn't hold back on the awkward moments, the loss and grief they each suffered, or the glimpses of joy they shared. Everything was basically broken down into actions, consequences, and the resulting emotions. It was so interesting to see the choices Isaac and Andrea made and to watch as piece by piece their lives became entwined.
Of course I have to mention that there will be a lot of people who won't be able to read Love and Gravity without comparing it to The Time Traveler's Wife by Audrey Niffenegger. So in my humble opinion, I personally did think they were similar in regard to being about romance combined with time travel, but I honestly found the format of this book a bit easier to navigate. It went in chronological order for the most part so I didn't feel as out of sorts, making it easier for me to follow along Isaac and Andrea's journey.
As for the characters, I did like Andrea and Isaac, as well as Nate, Mr. Westin, and Andrea's family. It seemed like they all had sacrifices and decisions to make that could affect others greatly and they did so with the best of intentions for the most part. The only thing that gave me pause was Andrea's treatment of Nate. Without giving too much away, the love triangle between Nate, Andrea, and Isaac was extremely complicated and was almost a no-win situation. But to me that didn't give her the right to treat Nate so poorly and crush his hopes again and again. Otherwise, I thought the way things worked out gave the characters the best possible ending while still giving history its due.
What a lovely adventure I had traipsing through time, as our two star-crossed lovebirds tried to make their own HEA. If you're looking for a romance with a nice twist to it–and that flexes your imagination–I definitely recommend Love and Gravity.
Book Info:

 Expected publication: February 7th 2017 | by Ballantine Books |
In this unforgettable novel for fans of One Day and The Time Traveler's Wife, a young Isaac Newton falls in love with a girl living in modern-day San Francisco, defying the laws of physics to forge a seemingly impossible connection.
Andrea Louviere is seven years old the first time he appears. While she's alone in her bedroom, practicing her beloved cello, the light shivers and a crack forms in the wall. Through the crack, she sees a candle, a window, a desk—and a boy. Though no sound travels through the wall, the boy clearly sees Andrea, too. And then, just as quickly as it opened, the crack closes, and he vanishes.
Over the years, summoning the bright, magnetic boy becomes something of an obsession for Andrea. Then, on her seventeenth birthday, she receives a three-hundred-year-old love letter from Isaac Newton. Andrea knows that Isaac will change the world with his groundbreaking discoveries; the letter tells Andrea that she will change him.
As Isaac's letters intensify in passion and intimacy, Andrea grows determined to follow his clues to their shared destiny—despite a burgeoning romance in the present. Only when she discovers the way into Isaac's time does Andrea realize that she faces a heartbreaking decision: between what was . . . and what might be.
Praise for Samantha Sotto's Before Ever After
"I was floored by the gutsy scope of this highly unusual love story. Before Ever After is one of those books that challenges the natural laws of fiction writing, and Samantha Sotto pulls it off in a frisky and highly entertaining way."—Anne Fortier, New York Times bestselling author of Juliet
"I was absolutely enchanted by Before Ever After. It's a highly original and engaging mix of romance, mystery, and magic that will challenge everything you think you know about happily ever after."—Jill Smolinski, author of Objects of My Affection
"A smartly written romance, mystery, and historical adventure all wrapped up in a page-turner that will have you guessing until the very end."—Adena Halpern, author of The Ten Best Days of My Life
"Exquisitely written and inventively told, Before Ever After is a beautiful, moving—and quite fun—exploration of what you think you know about your own life."—Melissa Senate, author of The Love Goddess' Cooking School