Love Me Sweet (Bell Harbor #3) by Tracy Brogan: Delaney Masterson is the youngest daughter of a 80's pop star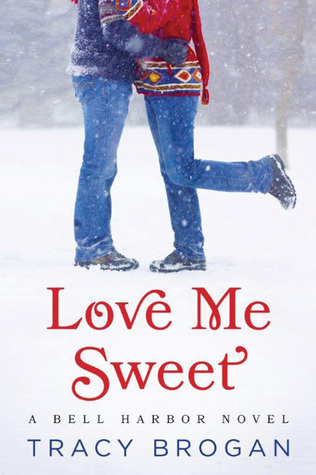 dad and former Victoria Secret Model turned Soap Maker mother. Thrust into a comeback reality show called Pop Rocks, she is portrayed as the ditzy little sister. When an ex, that she hasn't seen is over 5 years, looking for his 5 minutes of fame releases a sex tape to the media, Delaney runs for the hills. All she wants is to wait for the scandal to die down and for everyone to leave her alone. Renting a house in Bell Harbor, MI seems like the best place to keep a low profile and hide out from her family and the press. What she didn't count on was the house that she is renting to come with an owner that looks like Grant Connelly.
Grant Connelly is the cameraman on an adventure / reality show. When is little brother decides to get married to someone that Grant has never heard of, and his girlfriend trades him in for the star of the show is currently filming, Grant decides that the best thing he can do is pack his bags and head home to Bell Harbor and the house that his grandfather left him. Maybe he can convince his brother that he is making a HUGE mistake and being home will give him time to explore other avenues in his career. Much to his surprise, his mother has rented his house to Delaney and all hell is about to break loose.
Grant and Delaney need to work together to get Delaney back her money. But secrets, the press, his family and hers will land these two in some pretty sticky situations and possible ruin their chances at a HEA if they are not careful.
I really enjoyed Love Me Sweet. Delaney and her family are a hoot and don't get me started on Grant's family. This story was funny and light hearted. I loved the humor, the way that the story unfolded and some of the funniest scenes were the ones that you kind of said to yourself "that has disaster written all over it".
Love Me Sweet stood well on it's own, but if you are anything like me, after reading this book you are going to want to pick up the rest of the series because this one is a keeper.
Book Info:

January 27th 2015 by Montlake Romance | Bell Harbor #3
Delaney Masterson isn't looking for fame.
Yes, she has famous parents and a reality TV show, but she's not the wild-child celebrity the paparazzi have painted her to be. Until…The Scandal. When an old boyfriend releases a private video, Delaney's name becomes every comedian's favorite punch line. To escape the media, she sneaks away to Bell Harbor, Michigan—during the worst winter in fifty years.
Adventure show cameraman Grant Connelly has stayed away from Bell Harbor—mostly by choice—but when a family obligation converges with a spontaneous career decision, it's time to return home.
When bad weather, missing money, honky-tonk musicians, and Elvis impersonators throw Grant and Delaney together on an unexpected road trip, emotions get all shook up. They know only fools fall in love, but they can't help falling. Still, Delaney has a secret that could tear them apart forever.
Can they weather the storm? Or will this romantic ride end at the Heartbreak Hotel?