Love Me Tender by Susan Fox: Some people have all the luck, others it seems keep getting hit with the hard knocks and when Cassidy Esperanza passes out in the lobby of the Wild Rose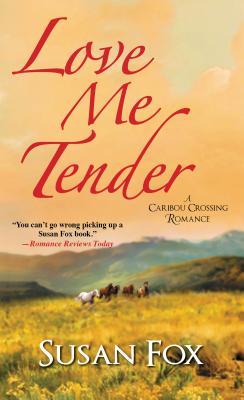 Inn you have to wonder if this is yet another hard knock. Cassidy hasn't had an easy life to say the least and has no concept what it's like to love someone in the forever sense of the word, to be honest forever doesn't even really have a meaning. No one stays forever, not without a bit of magic dust anyway.
Dave Cousins on the other hand is one of those forever kinds of guys. Yes he's been divorced but he is still good friends with his ex and her new husband. He's the kind of guy who will help out anyone in need. The problem with him though is he's shut off his heart, from everyone other than his daughter. She is the one light of his life, but even still, does she get his whole heart?
When this wild child and this steady man meet will they be able to even see the same book let alone find the same page? When Cassidy gets another knock will she be able to see through it? Finally will Dave be able to open his whole heart to anyone, his daughter or even Cassidy? No one knows what the future will hold but in Caribou Crossing magic dust does seem to fall.
Another installment in the Caribou Crossing series takes the reader into the Wild Rose Inn and some intrigue into this small town. The book can be read as a stand-alone and though you might just get hooked into the twists and turns of this small town.
Love Me Tender is a very well written novel with a little bit of heat though focusing more on the romance and the day to day problems of keeping secrets and learning to live through the pain of loss, all kinds of loss including trust.
If you are into something a little more heady with some romance and happiness thrown in Love Me Tender is the book for you.
Book Info:

Published December 2nd 2014 by Zebra
Dave Cousins, owner of the Wild Rose Inn, is known throughout Caribou Crossing as the nicest—and loneliest—guy in town. He's had his heart broken more than once, and he's determined not to let it happen again. So it's no wonder he's wary when a free-spirited drifter leaves him longing for more than just a steamy fling…
Like the wild goose tattooed on her shoulder, Cassidy Esperanza goes wherever the wind takes her. For her, a new day means a fresh start. And yet something about her days in Caribou Crossing—and nights with its handsome hotel owner—makes her think about staying a while. But when life takes an unexpected turn, her first instinct is to take flight once more. Is Dave strong enough to help them both face their fears, come to terms with the past, and believe that sometimes love truly can last a lifetime?