Love Repeated (Sander's Valley #1) by Nancy Corrigan, is an intriguing romantic novella about giving love a second chance.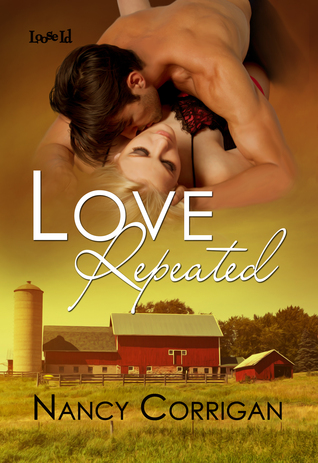 Kyle Sander and Ronnie Axel fell madly in love each and every summer during high school, when Ronnie came to Sander's Valley, Pennsylvania, to visit her father. Ronnie's mother's family were quite wealthy, while Kyle's family lived from pay check to pay check. Kyle's childhood was full of warmth and togetherness, while Ronnie was lonely and lived with her mother in a huge home in Virgina. Kyle was from the wrong side of the tracks, which did not stop Ronnie from loving him years ago. However, Ronnie left abruptly, never to be heard from again, and broke Kyle's heart in the process.

Now ten years later, Ronnie returns to Sander's Valley, to fulfill a request her recently murdered mother made in her will. Before she reaches her late father's cabin, she stops in at the local bar that Kyle and his younger brother just happen to be hanging out in. Kyle decides then and there that he is going to win Ronnie back, no matter what it takes. However, in order for a happily ever after to occur, a family curse and some secrets need to be discovered and resolved.
Ronnie and Kyle have scorching chemistry and Ms. Corrigan does an excellent job of creating the sexual tension between them. Their passion is more than sensual and sexy, it is hotter than molten lava. I really liked both Ronnie and Kyle, and was cheering for them to end up together from the moment I read about their incredible summers together.
I enjoyed this story. Considering the constraints of a novella, the characters are well-developed, interesting and real. I understood the connection between Ronnie and Kyle almost immediately, and truly felt their emotional release as they let go of the past in order to finally pursue a future together. If you are in the mood for a hot, slightly suspenseful second chance romance, check out this well-written novella.
Book Info:

Published November 25th 2014 by Loose Id
Young lovers, Kyle and Ronnie, had the world ahead of them at seventeen. Stubbornness, misunderstanding and a mother's influence forced them to forge their own paths. A decade later, neither can find love.
Ronnie always thought it was easier to move on than deal with the pain and hurt of past mistakes. She made plenty of them, but so did Kyle and her parents. Kyle knows the moment he touches Ronnie that he still loves her. He won't repeat the past and let her leave him a second time.
It takes a tragedy and a secret to reunite them, but their passion returns in a rush along with regret and guilt. To have love, they'll have to overcome their issues—before her mother's sin takes Ronnie away, once and for all.