In Love with a Perfect Cowboy (Cupid, Texas #4) by Lori Wilde, Luke Nielson became mayor of his small hometown in Cupid, Texas, during one of the worst droughts on record. The only solution he can come up with to keep his town afloat is to recruit his former teenage crush, Melody Spencer, who now works for a huge advertising firm in Manhattan. If anyone can think of a way for Cupid to boost tourism, she can. And if Luke gets to see her beautiful face at the same time, well, that's just fine by him. But as soon as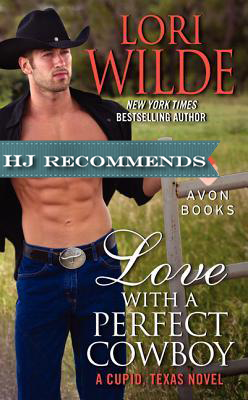 he and Melody are face-to-face again, all he can focus on is getting her back in his life. Their fledgling romance was cut short in high school, thanks to a ninety year old war going on between their families. This time around, Luke isn't willing to let others interfere in his relationship or in his plans to save his town.
"This stupid feud has gone on far too long. Which is one of the reasons I'm turning to you for help. What better way to end a century of hurt than for a Nielson and a Fant to work together to save Cupid?"
Luke chose the worst day of Melody's life to reappear. With her professional and love life in shambles, she lets herself get swept away by old feelings when he comforts her. Then Luke offers her a chance to help out the town she grew up in by creating campaigns to boost tourism. Melody accepts on the basis that they will strictly remain friends and not let their past complicate the here and now. Good intentions are tossed aside when they can't stay apart from one another. But as old family issues resurface, Melody and Luke are told to pick sides. She creates a plan that she hopes will stop the bitter fighting and allow them all to finally put the bad blood behind them. Hopefully it won't backfire on her.
"This is what you really want?"
"How many times do I have to say yes?"
"No regrets?"
"The only regret I have is that you're still standing here talking when we could be heating up the sheets."
"Hell, woman. I might be a lot of things, but I ain't stupid." Then he bent, scooped her into his arms and carried her to bed.
Love with a Perfect Cowboy is a seductive second-chance romance where Texas meets Manhattan and boy do sparks fly!
Book four in the best-selling Cupid, Texas series focuses mainly on Melody Spencer and Luke Nielson, whose families have been embroiled in a feud for close to ninety years. If you're new to this series, don't worry. The origins of the fighting was explained without detracting from what was currently happening in town. Which was a serious drought that threatened to turn Cupid into a ghost town. Previous characters made some appearances here again and we got to see the down-home charm and history that makes the town so special. But for me, the best part of Ms. Wilde's latest tale was the out-of-control passion that consumed our protagonists any time they were close to each other.
So there's lots of steamy lovin' going on between Melody and Luke when they reunite. The scenes were well written with a warmth and intensity that gives us a glimpse at the torch these two carried for each other for years. There was still a flirty playfulness to the banter that was a treat to read, as well. And the comparisons between their families and the Hatfields & McCoys was a bit funny, but definitely accurate. It made me feel sorry for them as they grew up, being told they couldn't associate or fall in love with a particular person because of who their family was. I loved that Luke and Melody finally made a stand against the animosity, even if there were bumps along the way.
If you're a fan of second-chance romances like myself, I think you'll adore Love with a Perfect Cowboy. There's drama, hometown issues, family tension, and a love story over a decade in the making with a HEA that will make you sigh happily.
Book Info:

Published May 27th 2014 by Avon
New York Times bestselling author Lori Wilde returns to Cupid, Texas, and asks the question: Do you ever forget your first love?
Melody Spencer had long-ago wiped the dust of Cupid, Texas, off her cute shoes . . . and done her best to forget the chiseled jaw and strong arms of cowboy Luke Spencer. Their families might be part of a long-time feud, but he was her very first love, even if it turned out they never wanted the same things.
But now Luke's come striding back into her life, tempting her with the memories of long, lazy evenings and hot, passionate kisses. And he has an ulterior motive—as Mayor of Cupid, he knows Melody's business savvy can help save their beloved hometown. His smooth talking might get her to Texas, but that doesn't mean he'll get her in his bed. Still, people do say love can be more perfect the second time around…