The reading community unfortunately lost a very talented and prolific writer on March 7, 2015. Cat Devon, who also wrote contemporary category romance as Cathie Linz, passed away after battling colon cancer.

Cat/Cathie was an award winning author who has written over thirty novels during the span of her career. She was known for her Entity paranormal series, as well as both her Girls Do or Don't , and Marines, Men of Honor romance series.

In honor of the many titles Cat/Cathie gave to us avid readers, I dug out my galley copy of Love Your Entity, which was released at the end of 2013, and thought I would share how much I appreciated her humor and storytelling abilities.

For those of you who have also read this story or any of her other work, please feel free to leave a comment.


In Love Your Entity (Entity #3) by Cat Devon, Author Sierra Brennan is probably the most well-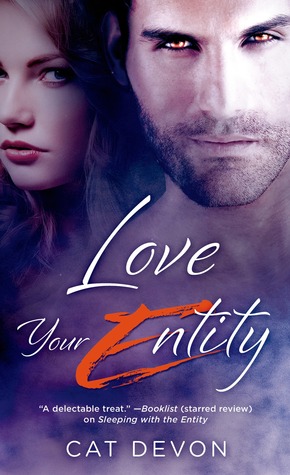 equipped member of her family to live in her late great-uncle Saul's home in Chicago. Sierra is an empath who can see and speak with ghosts, so the haunted home should be no problem. However, the stunningly attractive naked guy standing in said house is definitely a problem. He not only impedes her chance of inheriting the house, but Ronan McCoy is a vampire…and a man on a mission.
'She hoped he wasn't reading her thoughts. Could she post 'Vampires Out' on her mind? She definitely wanted 'Vampires In' regarding the rest of her body.'
Newly released after being his Sire's indentured slave/assassin for nearly a century, Ronan needs to solve a mystery to save his sister's soul. The key to it lies somewhere in his family's old home. The same house Sierra now stands to inherit. Working together is their only hope of achieving both of their goals. But will they be able to concentrate, given the magnetic bond that ties them together?
"Most people would consider me a monster," he said.

"Most people don't see dead people," she retorted. "Haven't you figured out yet that I'm not most people?"

"Yeah, I get that now."

"It took you long enough." She kissed him.
Love Your Entity was a lively paranormal romance that kept me guessing while solving its mystery, and with a bunch of characters who tickled me with their quirkiness.
I'll start off by saying that there are quite a few characters in this book, so it took me a little while to get acclimated since I haven't read the previous two installments. But I was able to read this as a standalone and thoroughly enjoy it. I loved the mix of snarky humor along with the details surrounding the not-so-happy history of the house and it's inhabitants. There was a lot of substance to the plot, which really helped turn this into a quick read. I had to know how it all ended!
There was so much to like about Ronan and Sierra. His loyalty to his sister and the fact that he wasn't completely insane after his time doing his Sire's bidding was incredible. And Sierra was a fiery, outspoken woman who kept Ronan on his toes. Their scenes together were always a blend of them antagonizing while trying to keep their hands off each other. So much fun! And of course the secondary characters added whole 'nother level of craziness to the story.
If you're a paranormal romance fan looking for a story to lose yourself in, I highly recommend Love Your Entity. It is oh-so enjoyable.
Book Info:

Published December 31st 2013 by St. Martin's Paperbacks | (Entity #3)
SOMETIMES LOVE IS A MATTER
Sierra Brennan can inherit her great-uncle's historic Chicago townhouse under one condition: She must live there for thirty consecutive days. What could possibly go wrong? As a writer and a ghost whisperer, Sierra has a vast imagination and a brave spirit. But not even she is prepared for the gorgeous—and naked—vampire who greets her at the door.
OF LIFE AND UN-DEATH
Ronan McCoy has spent the past century waiting to come home…to this house. The presence of the beautiful, brazen Sierra is one complication he doesn't expect. The other is Hal, a dangerous ghost and original member of Al Capone's gang who's dead-set on revenge. What is a formerly indentured vampire supposed to do to get a moment's peace? All he knows for sure is that he must protect Sierra from Hal. But once he has her in his arms, can he ever let her go? Life—and love—is becoming stranger than fiction for Sierra…and more delicious than she and Ronan could have ever imagined… in Love Your Entity.
"Like a dose of humor with your vampire romance? Cat Devon's series is for you…Sinfully delicious."—RT Book Reviews