Loving Isaac by Rebecca Kertz  was a great opportunity to return to the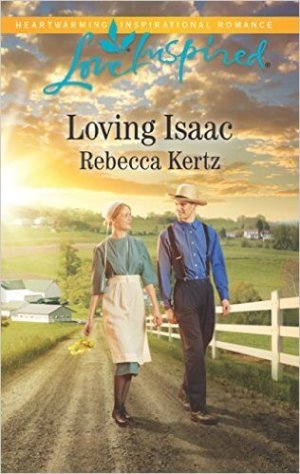 fictional Amish town of Happiness, Pennsylvania and the wonderful families that call Happiness home. After reading earlier books in the series that involve the Lapp family, it is finally time to read Isaac's story and also Ellen's.
Ellen and Isaac grew up as best friends, but grew apart when he started seeing a non Amish girl. While many family and friends warned him about the girl he was seeing, Isaac wouldn't listen to anyone's concerns. Now that this girl is supposively in the past, Isaac finds opportunities to work on reestablishing his and Ellen's friendship, though Ellen is extremely reluctant at first to trust Isaac once more. They very gradually grow to be friends again, though Ellen has another potential boyfriend. At one point, the "English" girl Isaac once cared for comes back into his life, but for an unexpected reason, needing his assistance.
Throughout the story Isaac wrestles with himself over whether to join the church or make a life for himself in the non Amish world. I encourage you to check this story out to see what he decides to do, and what role Ellen plays in this.
The close family and community ties in this story are one of the reasons that I love most in reading about the Amish. And the opportunity through these series to develop attachments to the families that are portrayed. I recommend Rebecca Kerttz as a new up and coming author of Amish fiction.

Book Info:

Publication: October 1, 2016 | Harlequin Love Inspired | Lancaster County Weddings
Isaac Lapp wants to put his once topsy-turvy life back in order. As he works to rebuild his tattered reputation, his one saving grace is childhood pal Ellen Mast—whom he's starting to see as more than just an old friend. But after his flirtation with an English girl, Ellen doesn't fully trust the boy who's always made her heart leap. And even though Ellen's kindness and beauty are helping him become more confident each day, the lure of the non-Amish world beckons. Isaac must make a choice: a life beyond Happiness, Pennsylvania…or the woman who might just become his forever home.