In Loving the Odds (What Happens in Vegas #14) by Stefanie London, Bailey Reuben is in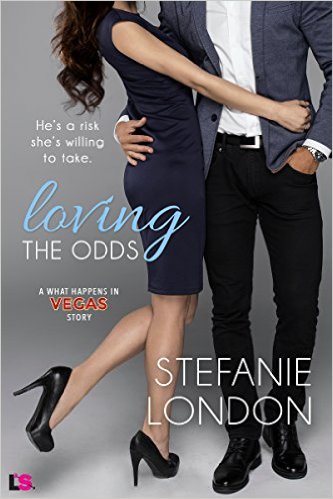 Vegas for one reason only – to get her grandfather's watch that her ex-boyfriend took with him after their relationship turned sour. However, her plan to confront the jerk isn't as simple as how she imagined it would be. So, when a sexy stranger offers his help to play her pretend boyfriend, she agrees because what happens in Vegas; stays in Vegas.
"Do you normally grill people when they offer you help? Or am I getting special treatment?"
A delicate pink flush fanned out across her cheeks. "This is kind of unchartered territory for me."
"Accepting help?"
"Technically I haven't accepted it yet. I only said yes to a drink." Her lips quirked. Okay, so she did have a sense of humor. "And yes, I tend to work alone."
Having read a few of Ms. London's books, I was looking forward to diving into this story, and I've got to say I absolutely loved it. Not only because it encompasses the fake relationship trope; but also because, of the way the story started with Bailey talking herself up to facing her jerk of an ex. She seems the sort of woman that avoids confrontation, so the anticipation of whether she's going to face her ex makes this book intriguing and fast-paced. Then it becomes even more so once she meets the hero.
The dialogue was compelling, and the moment that Lance and Bailey first meet had me laughing, especially since the conversation was about penises and whether they're helpful in a situation. In fact, there were a lot of light-hearted moments between the main characters that made this story a worthwhile read, and made me eager to know how this couple would overcome the obstacles they faced. Would Bailey get the watch back? Would Lance be able to make the heroine realize that her ex-boyfriend was wrong about her? Would Lance be able to earn Bailey's trust and prove that he was different than her ex?
I really liked both main characters. Lance brings out a different side to Bailey. In the beginning, she seems the type of woman that wouldn't do anything without analyzing all the things that could go wrong. Unless, of course, what she's doing is something she really wants to do such as getting her grandfather's watch back. Yet, being in Vegas and meeting Lance gives her the courage to take a risk; give herself a second chance at happiness. Besides, Lance certainly knows how to make things fun. The moment where they try to make her ex jealous by faking orgasms was just one of those fun moments on top of the playful dialogue between the pair.
While Lance, he was a bit of a troublemaker back in his past, and he's trying to make up for that by proving how much he's changed. That he can be the best at his career, be good enough to earn himself a premonition which he desperately wants. He's also kind, honorable and determined to prove to Bailey that she can trust him by helping her. Because she's everything he'd want in a woman, if he was looking for love and happy ever after.
"Hang on, you're teasing me, aren't you?"
"Me, never." He put a hand to his chest in mock sincerity. "I'm a total gentleman."
The fine ach of her right brows said it all. "Riiiight."
"You wound me."
She laughed. "Want me to kiss it better?" It was a saying, a colloquialism…he knew that. But those six little words managed to suck all the air out of his lungs and disconnect his body from his brain.
As for the sex scenes, they were hot and unlike anything Bailey has ever experienced before. Lance shows her how important she is, and that she isn't anything like what her ex described her when it comes to her sexual escapades. He gives her the confidence she needs to do things she never imagined she'd do, and seems to be the perfect guy for a chance at happy ever after, if she can overcome her trust issues.
Overall, Ms. London has penned a wonderful story in this book, and I loved the way it ended with Bailey finally standing up to her ex, and Lance proving to the heroine that they deserved a chance at happy ever after. Moreover, the epilogue tied this story up nicely because Bailey shows Lance how serious she is about their relationship and how there's no-one she trusts more than him. I would recommend Loving the Odds by Stefanie London, if you enjoy stories with great characters and lots of playful banter.
Book Info:

Publication: March 14th, 2016 | Entangled Publishing | What Happens in Vegas #14
He's a risk she's willing to take…
Risk analyst Bailey Reuben might be in Las Vegas, but the last thing on her mind is sin. She's there to find her jerk of an ex and get her grandfather's watch back. Instead, she finds a smoking hot stranger. A stranger with a crazy plan to help her retrieve her family heirloom and get revenge. It's a bad idea—she calculates risks for a living, after all—but she can't say no.
Bad boy PR guru Lance Fulton is all about helping the gorgeous, quirky Bailey. She's in desperate need of some fun, and pretending to be her new boyfriend is the perfect way to help her see how sexy she is, get the watch, and show her ex what he's missing. But the more they get to know each other—and the hotter their attraction burns—the higher the probability one of them will end up with a broken heart…