Loving You Is Easy by Wendy S. Marcus is a wonderful story about getting past your own fears and learning to trust. It is about finding that special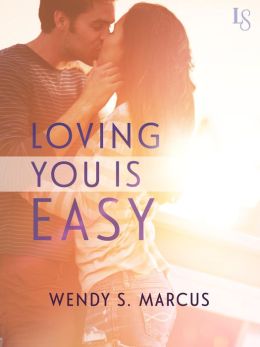 someone and holding on to them no matter what.
Brooke Ellistein has been burned before and burned badly. Being a politician's daughter, her life and all of her actions are under the microscope at all times. When she is chosen to head the "Support Our Troops" pen-pal, and sees Shane Develen's picture for the first time, she is hooked. There is just something about him that makes her want to rethink her hands off policy.
Shane Develen is a blue collar boy, not even in the same league with the beautiful Brooke Ellistein. But he is willing to bury who he is to gain her trust and have a chance with her. But when he is injured, and a photo that was given to him by Brooke makes the headlines, Shane is going to have to do some fast talking to convince Brooke that sometimes things are not what they seem.
I really enjoyed Shane and Brookes relationship. I liked how their romance unfolded and how they both had secrets and trust issues, but in the end, they were able to work past it and find a HEA. I will say that at times the book seemed to drag on a bit, but for the most part, I really enjoyed the story. I especially enjoyed the interaction with the other characters in the books and would recommend this to anyone that believes that love is truly out there if you are willing to take a leap of faith and just trust.
Book Info:

Published December 9th 2014 by Loveswept
She's a survivor of the front lines of politics. He's a wounded soldier returning home from the battlefield. Can they place their trust in the power of love?
Nobody plays the role of perfect politician's daughter better than quiet, respectable math teacher Brooke Ellstein. But she won't be caught swimming with the sharks again, not after the son of a wealthy donor sinks his teeth into her and gets away with it. Still, political connections have their perks, such as heading up the governor's "Support Our Troops" pen-pal initiative—and getting first dibs on the smoking-hot sergeant whose picture shakes her right down to her goody-two-shoes.
When corresponding with sweet, classy Brooke, Shane Develen instinctively hides his commando tattoos and blue-collar roots—and he can tell that she's hiding something, too. But Shane knows he's gained her trust when Brooke gives him a blisteringly sexy photo. Then he's injured in an ambush and a fellow soldier posts the snapshot online. Overnight, Brooke's reputation turns to ashes. Even though he's totally wrong for her, Shane shows up on Brooke's doorstep, determined to set things right—and discovers that right or wrong has nothing on the chemistry they share.