Lust by Emma Hart is book two in the Vegas Nights Series and is completely addicting. Once I started this book, I didn't want it to end. In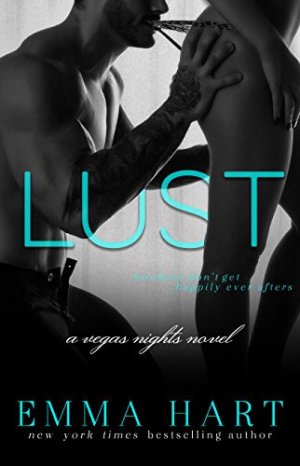 this must-read, two unlikely characters are brought together by their complex jobs and their lives won't ever be the same again!
Perrie Fox is a high price hooker, to put it bluntly. She scouts hotel bars for men looking for a good time. She doesn't enjoy what she has to do, but she's a single mother and her daughter comes first. This is her only option…until Adrian Potter offers her a way out. When Adrian brings her in as an informant lines start to blur.
Adrian is a detective who arrests Perrie for prostitution. There's something different about her and when she breaks down in his car, he decides to let her go. He's a single parent too, and recognizes that she's doing this job for her daughter. He has personal reasons for heading up the LVPD's prostitution task force, but he quickly recognizes how special Perrie is and there's no denying his attraction to her.
Perrie comes from a rich family and at first, Adrian can't understand why she lives the way she does, but when Perrie explains why there is bad blood between her family and her, it all makes sense. It's been seven years, but when someone reaches out to her, it might be just the thing to turn her world around. Will it cost her Adrian, though?
I loved both Perrie and Adrian. Perrie is strong, independent and selfless. Despite what she does to earn money, she is no pushover and she doesn't take crap from men. She is not afraid to put someone in their place. I also adored the secondary characters. Adrian's son and Perrie's daughter just added to the awesomeness of the story. It was fun to see how the couple interacted with each other's kid and how easily they worked together as a family.
Opposites attract in a big way, with this sinful tale revolving a hooker and an officer. Highly recommended!

Book Info:

Publication: September 12th 2017 | Emma Hart | Vegas Nights #2
Detective Adrian Potter had a lot to answer for. I didn't care that he was tasked with shutting down the city's most prolific hookers.
I cared that he was stopping me from providing for my daughter.
He didn't care.
Not at all.
Until I broke down in the backseat of his car… And he let me go.
Adrian was a single parent, too. He knew how hard I had it. At least, he thought he did.
He had a job. He had people who cared. He didn't know just how lucky he was.
My name is Perrie Fox.
I was a whore of the highest value.
Until Detective Adrian Potter.
Until the tattooed, redemption-seeking detective entered my life, looking for his fairytale.
The cop and the hooker.
Happily ever fucking never.
You've met one Fox sibling.
Now meet the other…