Magnolia Drive (Cavanaugh Island #4) by Rochelle Alersis the story of Francine and Keaton. Francine Tanner is a former broad way actress who returns to her hometown after a very painful divorce. Looking to leave her past behind her Francine joins her mom as a hairstylist.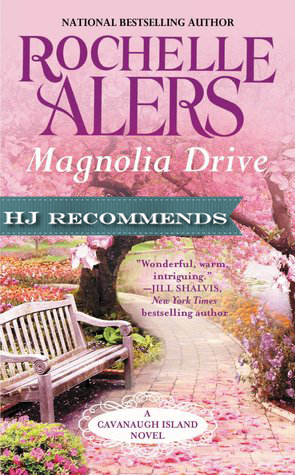 After she meets Keaton and begins to get to know him better, she wonders if this may be her second chance at love. But does she have the courage to forget about her past heartbreak and go after a relationship with Keaton?
Keaton Grace is an independent film writer, looking for someplace to open a studio and create films. When is unexpectedly runs into Francine, remembering that he has seen her perform in an off-Broadway play many years ago. He was infatuated with her then, and he soon realizes that his feelings have not changed. He attempts to get her to take a role in a movie that he has written specifically for Francine. When she declines the offer, he accepts her decision but he still wants Francine in his life. Can he break down the walls around her heart so that they can live happily ever after?
I really enjoyed Francine and her family and friends and how close their relationships were. They are supportive and loving and the type of family that you would just enjoy being a part of. I loved the relationship between Francine and Keaton. I enjoyed watching these characters grow and to watch their love blossom was a beautiful thing. I would recommend this wonderful story to anyone that truly loves a good second chance love story. I give this book 4 sweet stars.
Book Info:

Published July 29th 2014 by Forever | (Cavanaugh Island #4)
After a painful divorce and failed acting career, Francine Tanner packs her things and moves back to her hometown of Sanctuary Cove. There, she will join her mother in the family business as a hairstylist at the Beauty Box. Putting her LA dreams behind her, all Francine wants is to focus on rebuilding her life.
Keaton Grace is an independent film writer and director looking for a great place to open his own studio. After happening upon the small-town, he buys an abandoned building and surrounding lands to start his company. But he doesn't expect to bump into the beautiful Francine Tanner when he walks into the Beauty Box for a haircut and shave. Remembering her from a performance years ago in an off-Broadway show, he knows exactly what role she will play in his life.
Sparks fly between the two until Keaton reveals his plan—he wants Francine to star in his upcoming film. Tortured by her Hollywood past, she refuses to have anything to do with the film, even if it means letting go of their budding romance.